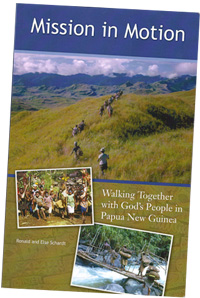 If you feel like you are actually treking up mountains, engaged in meetings on church issues, and dancing with new confirmands as you read the book, Mission in Motion, then you are right on. Ronald and Else Schardt wrote this book about their missionary experiences in Papua New Guinea in the present tense so that the reader can indeed be "walking together with God's people in Papua New Guinea," as the subtitle suggests.
The stories are not a chronological account of the Schardts 26 years in PNG. Rather, they portray daily life in a church and country that is dynamic and always in motion. You will walk with those in need of medical care. You will walk with the challenges of getting around where there are no roads (actually, often flying). You will walk into church conflicts. You will march to newly built churches. You will dance in joyous ceremonies. You will tiptoe in the middle of blackouts. And you will walk confidently through the milestones of faith.
Each chapter concludes with discussion questions about accompaniment — the main theme of the book. How do you see accompaniment in the chapter's story? How do you see accompaniment in similar daily situations of your own? And how is the missionary story our own story? How can we walk together in our lives of faith?
Some of the stories in the book date back to the early days of the Schardts tenure in PNG and some things may have changed since then. But the theme of walking — walking with those around you, joining in mutual encouragement and support, and sharing in life's journey — remains a strong reminder that mission yesterday, today, and tomorrow is about accompaniment.
You can order copies of Mission in Motion by writing schardtsville@q.com.
And of course, consider walking with a missionary by sponsoring one, as they walk day by day among the people with whom they serve..
(Review by Y. Franklin Ishida, Director for Asia and the Pacific, ELCA Global Mission)