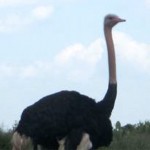 Not even the ostrich …
A reflection by the Rev. Sam Wolff
ELCA missionary serving in Kenya

When I decided to leave mission work in Africa after more than 20 years, many people asked me, "why?" Initially I had no answer, and so I would reply, "it's just time."
A few years later, while serving an international congregation in the heart of Europe, the "why" dawned upon me.  I had left my mission work in Africa, because I was tired of seeing.  I was tired of walking out of my home every day and seeing people dying of AIDS; mired in hopeless poverty; fighting to survive just one more day in urban Africa. I was tired of seeing corruption, tribalism, nepotism, drought and hunger. I was tired of seeing.
Then one day I thought of the ostrich.  Having lived many years in Africa, I've seen thousands of ostrich.  Never once, though, did I see one with its head buried in the sand.
That realization brought me up short.   "Who am I," I wondered, "to try and bury my head and not see"?
I am back doing mission work in Africa.  I see the same problems.  It seems, though,  that I see with different eyes.
I see women sing as they do back-breaking work.  I see children playing soccer on dung heaps with a ball made of banana leaves; they play with all the joys of childhood.  I see my neighbor who has AIDS in its last stages, carry himself with great dignity. I see Africans at worship who care more about adoration than they do about time.  I see some of the most beautiful people in God's world.
What a privilege, what a blessing, it is to see.