Resurrection Lutheran Church (RLC), Chicago, Illinois, sponsors ELCA missionary Kevin Jacobson who serves in Suriname.  The quiz below was prepared for RLC's Sunday in Suriname mission event.    Thanks to the Rev. Kim Beckman for sharing this quiz!–Sue Edison-Swift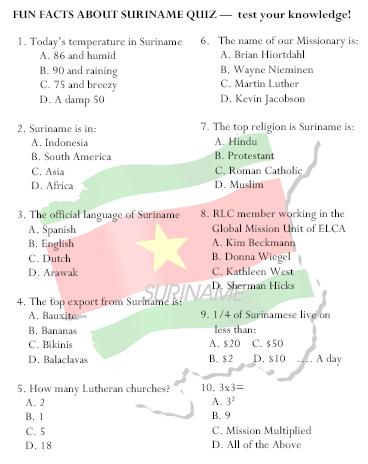 Answers:  1) A (September);  2)B; 3)C; 4)A; 5)C; 6)D; 7)A; 8)C; 9)B; 10)D
Learn more about Suriname by visiting www.elca.org/companionprofiles and then clicking on "Latin America and Caribbean" and "Suriname."   Learn more about how you can sponsor an ELCA missionary by visiting www.elca.org/missionarysponsorship or e-mail globalmissionsupport@elca.org.