For Masayoshi Kimura, speaking his mind has become difficult after suffering a stroke. But his true heart and joy are in his paintings. And it was during his daily walks that Masayoshi Kimura heard the church bells from Kariya Lutheran Church, giving him further inspiration.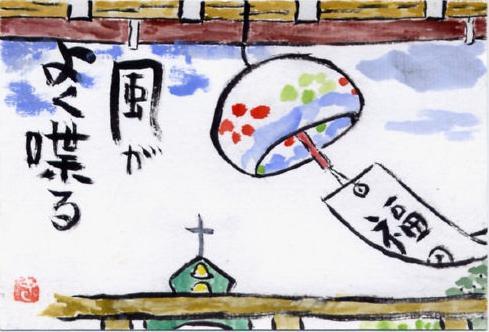 In 2004, bells were installed in the steeple at Kariya Church in central Japan. The congregation then took the bold step of ringing them every day at noon and 6 p.m. Most churches with bells in Japan dare not ring them regularly because neighbors consider them a nuisance. No one has complained at Kariya, and in fact the sound of the bells has now become a regular pattern in the area.
Early on, however, postcard-size paintings that featured the church's bells started arriving at the church each month. Members wondered: Who was this anonymous "fan" of the church?
His identity was eventually revealed as his paintings continued to arrive each month. "Over five years, we are missing only one month," says Kariya Pastor Yoshiro Ishida. It turns out, that was the month Kimura was hospitalized.
Kimura is not a Christian. He illustrates seasonal themes that strike his fancy, such as "harvest time" or "friendship." "These are about our daily routines, the joys around us, and those things that are important for community," he says. But there always is in the background a stylized cross-topped belfry with bells.
The daily ringing of the church bells in Kariya marks the time for high school students across the street and for children coming home for supper. And the bells bring special joy to one neighborhood man's heart, during his walks and as he picks up his paintbrush.
Y. Franklin Ishida
Director for Asia and the Pacific, ELCA Global Mission
Masayoshi Kimura's paintings with the church bells can be seen at Kariya church's website (in Japanese, but click top right button to advance through images.)