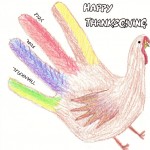 In 2009, the "first annual" Operation Thanks-Giving proved to be a blessing for those who made cards, those of us who distributed the cards to missionaries, and the missionaries who received them!  Here's how to participate in Operation Thanks-Giving 2.
1.       Make "thankful for you" greeting cards for ELCA (International) Missionaries.  They can be simple or elaborate, sentimental or silly.  Send as many as you like.  Sending 180 greetings would mean that every missionary household will receive one of your cards. Feel free to include an e-mail address; you may receive a "thanks for the thanks" note.
 2.       Mail these "random acts of appreciation" cards to
ELCA Missionary Sponsorship (OT-G2)
8765 W. Higgins Road
Chicago, IL 60631
***Cards will be mailed on November 10 and December 10***
 3.       Mail cards directly to specific missionaries (i.e., those you sponsor) and other service international personnel connected to you (e.g., members of your congregation serving in the military).
  4.      Your encouraging support is greatly appreciated!  Your sustaining support is also needed. Consider sending a gift for "ELCA Missionary Sponsorship" along with your cards.
 Find stories and pictures at https://blogs.elca.org/handinhand; see the "Operation Thanks-Giving" category button on the left.  Share your OT-G2 stories and pictures with the Global Mission Support team: e-mail globalmissionsupport@elca.org or call 800-638-3522, ext. 2969.  Learn more about ELCA Missionary Sponsorship at www.elca.org/missionarysponsorship and www.elca.org/handinhand.