Lanny Westphal, director of ELCA Global Church Sponsorship
Read on for updates on Malaysia: Outreach Among Indigenous Neighbors (GCS4021), an ELCA Global Church Sponsorship project that is part of Always Being Made New: The Campaign for the ELCA. To make a gift to this Global Ministry, clickhere.
__________

Malaysia: Outreach Among Indigenous Neighbors (GCS4021)
Goal: $500,000 over four years
July 2014
THE CHURCH: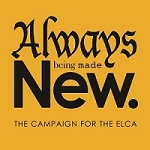 The ELCA has accompanied the Lutheran Church in Malaysia and has initiated efforts to reach the Orang Asli indigenous people with the gospel.
THE NEED:
Christian evangelism in Malaysia is permitted by law only among non-Malay. For ministry among the indigenous Orang Asli of West Malaysia, many challenges exist, such as traditional values, lifestyles (hunter/gatherers), education, and attempts at conversion by the Muslim majority population.
The Orang Asli communities in central Malaysia face challenges of encroaching development. The church remains a central focal point for the people where they can gather to hold to their traditions.
Meanwhile many Orang Asli communities in northern Malaysia are left isolated with minimal support from the government. In some instances, villages may have received initial government development but without sustainable resources. The Lutheran Church in Malaysia is attempting to bring hope to the people, both materially as well as spiritually. A new program gives children opportunities for sustained education is being piloted.
The Orang Asli congregations are growing. Pastoral leadership is mostly "imported" from the indigenous communities of East Malaysia (Sabah). Interest is high, though, to identify leaders from among the existing Orang Asli communities.
THE OPPORTUNITY:
Your gifts to ELCA Global Church Sponsorship will help broaden and deepen the outreach of the church to the Orang Asli, while helping develop pastors and evangelists in ways that are culturally appropriate.
GET INVOLVED!
This ELCA Global Church Sponsorship priority is a new ministry as part of Always Being Made New: The Campaign for the ELCA. You can help by sharing this information, by praying, and by making a donation.
By check: Make your check payable to "ELCA Global Church Sponsorship" with "Malaysia, GCS4021" in the memo line, and send it to: Evangelical Lutheran Church in America, P.O. Box 1809, Merrifield, VA 22116-8009 or place your gift in the offering plate.
Online: Go to https://community.elca.org/Malaysia to make a one-time gift.
By phone: Call 800-638-3522 and pay with a credit card or set up a monthly gift.
For more information please visit www.elca.org/globalchurch or contact:
Rev. Lanny Westphal, director, ELCA Global Church Sponsorship
8765 W. Higgins Road, Chicago, IL  60631
773-380-2641