By members of the program
Young Adults in Global Mission (YAGM), ranging in age from 21 to 29, take the plunge into a life-changing year of international service. Support all the YAGM or those serving in the schools in the Holy Land. Learn more by contactingglobalchurch@elca.org. Discover creative ways to involve your youth at Youth for YAGM.
———-
Jan. 21, 2015
Introducing the new coordinators
Hello, we're Jeni and Colin Grangaard. We're fresh out of northwest Minnesota, where we've been serving congregations in Glyndon and Barnesville (after a term call at Trinity in Moorhead), respectively. We met at Luther Seminary in St. Paul, Minn., and got married in Las Vegas. With Global Mission, we are returning to Jerusalem and the West Bank to serve as country coordinators for the Young Adults in Global Mission program. We love to read, drink good coffee and travel.
———-
Oct. 28, 2014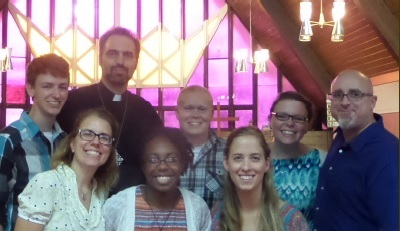 The Rev. Rani Abdulmasih (back row, left) of Mother of Our Savior Lutheran Church in Dearborn, Mich., and the visiting Young Adults in Global Mission group.
Greetings from Jersusalem
Julie Rossate is the country coordinator for the ELCA's Young Adults in Global Mission (YAGM) Jerusalem/West Bank program. To support a YAGM, see www.ELCA.org/YAGMsupport. To support Julie and the associate coordinator, Jeff VonWald, or another of the ELCA's more than 240 missionaries, see www.ELCA.org/globalchurch.
Hello from Jerusalem! I am happy to write that the situation here is much improved since our last newsletter in July. We have a ceasefire and we have our new Young Adults in Global Mission (YAGM) volunteers. It's October, so the weather is becoming cooler. The olives are ripening on the trees, and harvesting has begun. Recently our Muslim neighbors celebrated Eid al Adha, and our Jewish neighbors marked Rosh Hashanah, Yom Kippur and Sukkot. On the political front, while regional conflicts remain – and tensions continue in Jerusalem – the large-scale fighting has ceased between Hamas and Israeli forces. We are extremely thankful for all of these things, while we continue to pray that political leaders will make responsible and life-giving decisions as they move forward.
We are also thankful to have our 2014-15 group of YAGM volunteers here. Getting them here was a challenge! Learning of significant visa delays, we decided to start the volunteers' orientation to Jerusalem/West Bank from the United States. Jeff and I met the volunteers in Chicago in mid-August, and traveled to Dearborn, Mich., to begin orientation. The Dearborn area has a very large population of Arab-Americans, with many opportunities to explore Arab cultures and to begin language study. One highlight of our stateside orientation was attending the Arabic-speaking ELCA congregation Mother of Our Savior Lutheran Church, led by Pastor Rani Abdulmasih (photo, above).
This experience gave the volunteers an introduction to an Arabic worship service. During coffee hour, they made instant friends as they tried out their fledgling Arabic skills with members of the congregation. We give thanks for the Mother of Our Savior congregation's warm welcome, patience and kindness!
A significant part of orientation is connecting our faith with our experiences. We're so blessed to be surrounded by meaningful sites and generous people. In Beit Sahour is a field associated with the story in the New Testament of a sky full of angels announcing the birth of Jesus to the shepherds. We went to this field recently, where Kanika Staten (a YAGM) led us in a Bible study of Ruth. It is powerful to contemplate Ruth's situation as a foreigner in a strange land while contemplating one's own status as a foreigner in the same land, also in need of the help of others.
Orientation is finished now and the YAGM are working in their communities. I'll go into more detail in the future about each YAGM, but here's a brief overview: Kanika Staten serves at Beit Sahour Lutheran School and Bethlehem's Dar al Kalima School; Michael Dickson serves at Mahaba Kindergarten in Jerusalem; Amy Gulliksen serves at Helen Keller School for the Visually Impaired and Other Disabilities, also in Jerusalem; Clare McElaney serves at Hope Lutheran School in Ramallah; finally, Sheldon Way serves at the Evangelical Lutheran Church in Jordan and the Holy Land's Environmental Education Center.
We pray that the 2014-2015 YAGM volunteers will continue to see God's grace as they live and grow into their new lives here in Jerusalem/West Bank. If you'd like to follow their lives and learning, follow them in their blogs:
As always, Jeff and I want to thank you for your support.
With blessings and peace,
Julie and Jeff