Theodore and Jane Zimmerman
​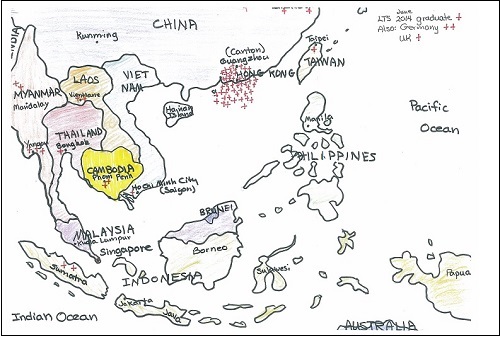 Indicated by the red crosses, the Lutheran Theological Seminary graduates will be serving throughout Southeast Asia, China and even Europe.
The Rev. Theodore and Jane Zimmerman are retiring from their service as ELCA missionaries in Hong Kong where they have been teaching at the Lutheran Theological Seminary. Here's their update on the seminary's class of 2014. To support one of the more than 240 ELCA missionaries in the global church, click here.
Greetings this spring of 2014,
Over 60 graduates from the Lutheran Theological Seminary (LTS) in Hong Kong are looking ahead to their first calls.
Most of the over 50 Evangelical Lutheran Church in Hong Kong pastors have graduated from LTS. It's a good fit!
It is important to add that 75 percent of the LTS graduates are not Lutheran. Those students will also return to better serve their churches and hopefully will bring increased vitality and a stronger, deeper understanding of the Bible, theological issues and pastoral counseling. Some are called to hospital or prison chaplaincy and others receive advanced degrees and will teach at seminaries in China or Southeast Asia.
After graduation, the work of the seminary continues with summer and special courses plus preparation for the returning and new students. Half of the professors and the LTS administration are now from Hong Kong. Other professors are from Taiwan, the United States, Indonesia, Netherlands, Germany, Sweden, Norway and Finland. Some are here for a short time and others serve for years — like us!
Thank you for your support over these years as we help prepare these students for leadership in the church in Asia and elsewhere! We know your congregations are mission-minded and will keep global mission in your vision. Ted and I retire, but the needs continue around the world. Thank you for continuing to participate in God's work in the world — Our hands, his work.
Here are six of the 60 LTS graduates' studies and hopes:
Sengbhandith Souphab (Tai) — Lao Evangelical Church, Vientiane, Laos. Bachelor of Theology
Tai knows that in the future he will probably join the team of pastors at the Lao Evangelical Church. He looks forward to learning from experienced pastors and to preaching and teaching. After ordination, he hopes to go to the Laos countryside to be a pastor in a small church. He says, "I believe the small churches need good leaders and pastors too!"
Jasmin Gerhaeusser – Evangelical Lutheran Kirchengemeinde, Aha, Germany.  Master of Arts in Mission
Jasmin describes the LTS community as "… very special in sharing experience and daily life, not just sharing knowledge." After ordination in Germany, she wants to "… help connect people to learn from each other as they grow in faith."
Pisa Tith — Cambodian Christian Church, Phnong Pheng, Cambodia.  Master of Divinity with emphasis on Diakonia
Pisa says, "LTS has encouraged and helped me to understand the word of God and how to respond to my people's needs when I return to Cambodia." His class on crisis counseling will be very important to him in his future work as well as ways he learned to help married couples facing troubles in their relationships.
Tse, Pui Ha — The Rhenish Church in Hong Kong, Master of Divinity
"My three years at LTS have proved to be a good adventure," says Pui Ha. Pastor Angus Wu arranged her field placement that gave her valuable experience for serving as a pastor. She is thankful for her LTS roommate, a pastor from China who will remain a lifelong friend.
Yang Ju Tsz (Max) — Lon Ga Church, Taiwan.  Master of Theology in Spirituality and Worship
Max is completing four years of study at LTS. His wife, Elim, will graduate this June with a Bachelor of Theology. Max says his perspective is now deeper and stronger, yet also broader. He believes the LTS experience helps him and Elim as they go forward in mission.
Saw Shwe Gyan — Karen Baptist Theological Seminary, Yangon, Myanmar. Doctor of Theology
Shwe Gyan taught at the Karen Seminary prior to coming to LTS three years ago. He values both seminaries for the "family feeling." The chapel meditation and good atmosphere at LTS have increased his spirituality, plus he enjoys the academic demands of LTS.
Graduation is June 1. Please remember LTS in prayer. Thanks.
Janey and Ted Zimmerman