Plan a Global Church Sunday in your congregation to highlight and celebrate ELCA ministries with the global church. Find resources at www.ELCA.org/resources/globalchurch.
Dec. 18, 2014
ELCA Good Gifts
For your Global Church Sunday, encourage people to give one of the three "global good gifts." See www.ELCA.org/News-and-Events/blogs/HandInHand/470.
---
Global Church Sunday 2014For all kinds of reasons and ideas to celebrate God's global church this fall, see http://www.elca.org/News-and-Events/blogs/HandInHand/436.
---
Nov. 23, 2014
Focus on Siberia:  Equipping the Faithful
Lutheran Church of the Cross in Nisswa, Minn., held a Global Church Sunday with international music and prayers from the toolkit. The focus of the message and adult forum was on the Equipping the Faithful seminars, which began in Siberia and have since been expanded across Russia, led by ELCA missionary Bradn Buerkle. The congregation's endowment made a gift for this "Equipping" appeal which is an initiative of Always Being Made New:  The Campaign for the ELCA.
---
Sept. 2, 2014
Global Church Sunday toolkit now available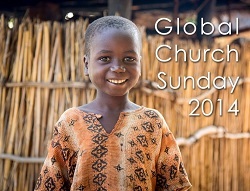 Has your congregation started planning a Global Church Sunday celebration? Consider coordinating your Global Church Sunday celebration on Sept. 21 (International Day of Peace), Oct. 5 (World Communion Sunday) or Oct. 26 (Lutheran World Federation Sunday).
Download the new toolkit and learn how to plan Global Church Sunday and find ideas at
www.ELCA.org/resources/globalchurch! The toolkit has everything from global inspired coffee-hour ideas, to contacting a Young Adult in Global Mission,  to discussion questions about the global church. Here is a sample of the Global Church Sunday toolkit. Go to the toolkit for more ideas.
– The ELCA belongs to The Lutheran World Federation, a global communion representing over 72 million Christians in 79 countries. Have a discussion about how your congregation is connected with the global church. How can your congregation become more connected with the global church?
– The free downloadable Global Church PlaceMaps are a great way to highlight our connections during coffee hour. You can print them out on 11×17 paper on your printer or order copies to be mailed to you. Consider offering fair-trade coffee, tea and chocolate or other treats from around the world. Or you could have a fair-trade fair on Global Church Sunday.
– Collect a special offering during worship to support Missionaries, Young Adults in Global Mission, International Leaders or global ministry. Order free global offering envelopes to use on Global Church Sunday.
-Incorporate global inspired music, liturgy, prayers or art into a global-themed worship service.

---
November 2013
Excerpts from the Nebraska Synod e-letter
On Sunday, Nov. 24, 2013, many in the Nebraska Synod will be preparing for Thanksgiving. Thanksgiving is the time of year when most Americans pause and reflect upon God's grace and abundance.
Sunday, Nov. 24, is also Christ the King Sunday, on which we will shout "Christ is the King!"  Living in the kingdom of Christ has powerful implications. We are reminded in the verses written to the Ephesians that the king of all creation has called each of us to know a hope-filled life full of possibilities. The world yearns for this life-giving message of Jesus. You, your congregation and all of us together as the Nebraska Synod are called to be Jesus' partner in proclaiming the gospel through word and deed. One expression of this service is global mission.
Becoming actively involved in global mission is a rich opportunity to participate in God's reconciling mission through proclamation and service. The following are ways in which you and your congregation can more deeply engage in global mission on Nov. 24:
Pray for global mission partners and missionaries as well as for the world – being a global mission church can transform the prayer life of your congregation.
Educate members about global issues – being a global mission church enriches the lives of church members and expands their horizons. Organize a global mission class, emphasize global mission in Sunday School or host an event with a speaker. Including global music in your worship is also a wonderful way to celebrate God's presence in the world.
Give to the work of global mission – this means recognizing that your congregation's mission share supports ELCA global mission throughout the world. Sponsoring a missionary through our ELCA missionary sponsorship program provides your congregation a wonderful opportunity to be directly connected to a missionary in one of 48 countries around the world.
Send members into the world to share the good news – one part of being a global church that can change the way church members travel and look at the world is to encourage them to visit global missionaries and partners when they travel overseas.
Grow in sharing the stories of God's mission – this can mean designating a member of your congregation to participate in global mission events or organizing a joint global mission event with another church. This also means sharing the things your congregation is doing with others. You can send pictures and stories from your congregation's celebration to globalchurch@elca.org and you may be featured on the
ELCA Facebook page or on livinglutheran.com. Your congregation can help all of us with new ideas for participation in the work of global mission.
---
Redeemer Lutheran Church in Ramsey, N.J., invited a former ELCA Young Adult in Global Mission to speak at its Global Church Sunday.