Deborah and Joe Troester
​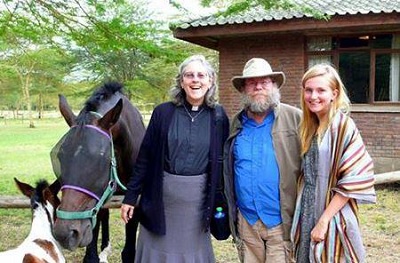 From left, Deborah, Joe and Christa Troester.

The Rev. Deborah and Joe Troester are ELCA regional representatives for East Africa. To support them, go here. To support another of the ELCA's more than 240 missionaries serving in the global church, go here.
Christmas greetings from warm and sunny Arusha, Tanzania!
After completing our service in the Central African Republic in 2013, we received a new call as the ELCA's East Africa regional representatives. While both Tanzania and Central African Republic are in Africa, there are some differences: Tanzania has a population of 49 million, while the Central African Republic has only 4 million. The Evangelical Lutheran Church of Tanzania has over 6 million members, bigger than the ELCA!
It's wonderful to see how God is working in Tanzania. The Evangelical Lutheran Church of Tanzania is one of the fastest growing Lutheran churches in the world! Our job as ELCA East Africa regional representatives involves developing relationships with both the Tanzanian and Kenyan Evangelical Lutheran Churches, relationships with their companion synods, representing the ELCA at regional meetings and events, and supporting our ELCA missionaries and volunteers in whatever ways we can.
There are currently 25 ELCA personnel serving in East Africa: 14 full-time missionaries and 11 volunteers. That's not including the nine missionary kids living here in East Africa, ranging in age from 2 to 21! Our daughter Christa (age 18) is one of these. She is completing her senior year of high school at Rainforest International School in Yaoundé, Cameroon. Next year she hopes to join us here in Tanzania for a "gap year" before heading off to the United States for university.
Thank you for your prayers and support. They mean a lot to us. We wish you a merry Christmas, a happy New Year, and many blessings in 2015!