Anna Moorhead
​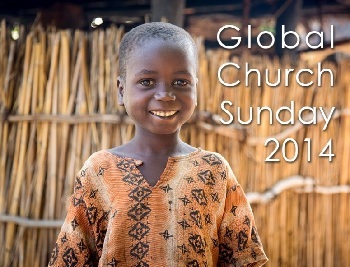 Has your congregation started planning a Global Church Sunday celebration? Consider coordinating your Global Church Sunday celebration on Sept. 21 (International Day of Peace), Oct. 5 (World Communion Sunday) or Oct. 26 (Lutheran World Federation Sunday).
Download the new toolkit and learn how to plan Global Church Sunday and find ideas atwww.ELCA.org/resources/globalchurch. Click on the Global Church Sunday tab. The toolkit has everything from global inspired coffee-hour ideas, to contacting a Young Adult in Global Mission,  to discussion questions about the global church. Here is a sample of the Global Church Sunday toolkit. Go to the toolkit for more ideas.
The ELCA belongs to The Lutheran World Federation, a global communion representing over 72 million Christians in 79 countries. Have a discussion about how your congregation is connected with the global church. How can your congregation become more connected with the global church?
The free downloadable Global Church PlaceMaps are a great way to highlight our connections during coffee hour. You can print them out on 11×17 paper on your printer or order copies to be mailed to you. Consider offering fair-trade coffee, tea and chocolate or other treats from around the world. Or you could have a fair-trade fair on Global Church Sunday.
Collect a special offering during worship to support Missionaries, Young Adults in Global Mission, International Leaders or global ministry. Order free global offering envelopes to use on Global Church Sunday.
Incorporate global inspired music, liturgy, prayers or art into a global-themed worship service.
ELCA Global Church Sponsorship offers an opportunity for you or your congregation to help build  Christ's church by supporting Missionaries, Young Adults in Global Mission, International Leaders, and Global Ministries to work with our companions in Christ. Learn more at www.ELCA.org/globalchurch.