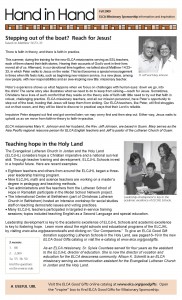 The Fall 2009 issue of the Hand in Hand newsletter is ready to
read online.  Visit www.elca.org/handinhand.
distribute.   To request as many free copies as you can use, send Global Mission Support your post-office and UPS addresses, the number of copies you need, and when you need them.
reproduce in bulletins and newsletters.  Three articles from this issue are available as bulletin inserts:
* If you or your congregation participates in "Operation Thanksgiving Card," please share the story! 
Thankful blessings,  Sue 
Sue Edison-Swift is assistant director for Global Mission Support.