Elizabeth Hendrickson
​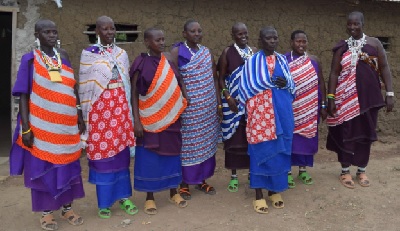 Women from the Kenya Evangelical Lutheran Church's adult literacy class in Bandawacho, Naserian Mission.
Elizabeth Hendrickson is an ELCA missionary in Kenya working with the Kenya Evangelical Lutheran Church as its communications coordinator. To help support Elizabeth, go here. To support another of the more than 240 ELCA missionaries in the global church, go here.
Empowerment of women and girls is an important ministry of Kenya Evangelical Lutheran Church. Women enrich the congregational life of the church in numerous ways, including congregational women's committees, choir ministries, community outreach groups, elder's councils, and many other church ministries. The church's Women's Department works to  support and encourage women to develop and share their talents in their church and community.
In November and December 2014, the Women's Department traveled to several congregations to conduct educational seminars addressing important issues facing women in Kenya. The seminars provided information on starting small businesses; women's role in society, church and family; and church member engagement.
After participating in the seminars many women were inspired to explore opportunities to start small businesses as a way to support their family, develop new skills, and gain financial independence. Additionally, learning about the increased prominence of women leaders in the church helped to empower the female participants to consider how they can engage more fully and seek leadership roles in the congregation and their community.
Women are a vibrant part of the Kenya Evangelical Lutheran Church. We rejoice in the opportunity to support and empower women to improve their lives and the life of our church.