Carolyn Schneider
​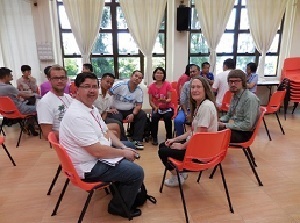 Carolyn Schneider, center, meets with some of her Lutheran Theological Seminary students.
Carolyn Schneider is an ELCA missionary teaching at the Lutheran Theological Seminary in Hong Kong. To support Carolyn, or another of the ELCA's more than 240 missionaries, click here. 
Dear friends and companions in our church's global mission,
Many thanks to you for your prayers and financial support, and greetings to you from To Fung Shan road in Hong Kong's New Territories, where my home and the Lutheran Theological Seminary are both located (Tao = Logos/Word, from John 1:1; Fung = Wind/Spirit, from John 3:8; Shan = mountain).
The seminary tops the mountain, a 20-minute uphill climb for me each day, during which I meet many avid morning hikers, so I have quickly learned the Cantonese expression for "good morning": jio san.
The academic year has just begun. We have completed the first week of classes, following a week of retreat for faculty and new students at Cheung Chao, one of Hong Kong's many islands.
From these weeks I have learned that the striking international diversity of Hong Kong is reflected just as strikingly in the seminary community. Of the nearly 300 students, about 70 percent are from Hong Kong and about 30 percent are from other countries. Of the 23 full-time faculty, about 60 percent are from Hong Kong and about 40 percent are from other countries. Most of the international students are from other parts of Asia, such as mainland China, Macau, Taiwan, Myanmar, Laos, Cambodia, Vietnam, Thailand, Indonesia and Nepal. But some also come from the United States and Europe. Most of the local students from Hong Kong go on to become pastors and lay leaders in the various Lutheran church bodies in Hong Kong that have joint responsibility for the seminary. You can explore the seminary's website at http://www.lts.edu.
Instruction at the seminary is in Cantonese (the language of Hong Kong) or English, with an occasional course offered in Mandarin (the official language of China). I teach in English and most of my students are international. For them English is a second (or third or fourth!) language, so it is not easy for them, but it is the language they have in common. The students in my classes this semester (Early Church History and Reformation Church History) are from Hong Kong, Myanmar, Nepal, Laos, Indonesia, mainland China and Switzerland.
Apart from their nationalities, my students are diverse in many other ways as well. Some come from families of generations of Christians; some are the only Christians in their families and were baptized only a few years ago. The seminary requires that applicants for academic programs that equip people for leadership in the church have been baptized for at least three years. Some of my students are earning their first bachelor's degree or have never studied theology before; some are pursuing a doctorate in theology. Our class discussion is never boring!
All of this diversity inside and outside the classroom is gladly and thankfully acknowledged by the seminary community as perhaps its greatest strength. But there is also recognition of the great challenge of finding ways to weave these diverse strands into a real community. Language barriers, differing expectations and experiences, and cultural divides are hard to overcome. Maybe you have discovered this in your own local community.
One of the ways that Lutheran Theological Seminary actively seeks to integrate its community is through "families" of students and faculty. A pair of faculty members meets monthly with a "family" of about eight or nine students to have fun together and to support and encourage each other. I met my family at the retreat in Cheung Chao, where we talked about what they would like to do together in the coming year. They suggested sharing food and stories of their lives, doing a little hiking (not too much!) and sightseeing, watching religious movies and discussing them, and visiting a synagogue, mosque, and other places of worship. That sounds good to me. In the photo above is my family, representing Hong Kong, Indonesia, Myanmar, Cambodia, Pakistan, Germany, Norway, and the United States (me).
The peace of God, which passes all understanding, keep your hearts and your minds in Christ Jesus (Philippians 4:7).