Contributed by Brian Hiortdahl, Resurrection Lutheran Church, Chicago, IL
Warm-up Question
What is the worst punishment you ever received?  Did you deserve it?
Sentenced to Die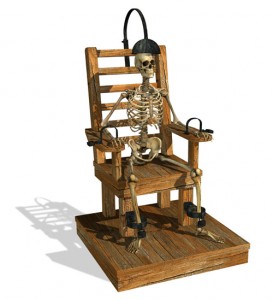 Justin Wolfe has spent most of his twenties on death row in Virginia. Just before his 21st birthday, he was convicted of the murder of Daniel Petrole, Jr. and sentenced to die.  Wolfe did not kill Petrole, however, the man who fired the gun, Owen Barber IV, claims that he was hired by Wolfe to do it.  All three young men were heavily involved in the buying and selling of illegal drugs, and the surface story of Petrole's murder reads like a mafia hit.
Wolfe claims innocence, at least on the charge of murder.  His claim is supported by many other people and by evidence not included in his trial, including a dramatic change in Barber's story about what really happened on the night of Petrole's death–a change that Barber later changed again.  Wolfe now has new legal representation and an appeal currently in process in the Virginia justice system, which rarely overturns a death sentence.  His case reopens questions about the justice of the death penalty, particularly given the possibility of executing an innocent person.
For a very detailed account of this story, read "An Innocent Man on Death Row?" at http://www.washingtonian.com/articles/people/11712.html 
Discussion Questions
After reading the story, do you believe that Justin Wolfe should be executed?  If you are not sure, what questions remain unanswered?
Under what circumstances, if any, do you support the death penalty?  Why or why not?
In your experience or opinion, how trustworthy is the justice system of the United States?
Scripture Texts (NRSV) for Sunday, November 21, 2010 (Christ the King Sunday)
(Text links are to Oremus Bible Browser. Oremus Bible Browser is not affiliated with or supported by the Evangelical Lutheran Church in America. You can find the calendar of readings for Year C at Lectionary Readings.)
For lectionary humor and insight, check the weekly comic Agnus Day.
Gospel Reflection
Jesus was also sentenced to die.  His trial and execution all took place in less than 24 hours.  Of all the gospel writers who present this story, Luke most emphasizes Jesus' innocence.  Only in Luke do we hear the words of the two criminals crucified with Jesus, and one of them says, "this man has done nothing wrong." When the centurion speaks after his death, he does not name Jesus "Son of God," as in Matthew and Mark, but says, "Certainly this man was innocent."  Luke wants us to see that Jesus' death penalty is a grotesque injustice.
This sense is amplified by the stark contrast Luke presents between the attitudes of those surrounding Jesus and Jesus himself.  In a swirl of false accusations, physical attacks, games of chance for his meager possessions, and nasty insults, Jesus consistently shows compassion, even for his executioners.  He consoles the women who accompany him to the cross (Luke 23:27-31) and then prays for those who are persecuting him:  "Father, forgive them, for they do not know what they are doing."  Our reading ends with Jesus offering a startling, beautiful word of promise to the criminal who asked only to be remembered.
It is no coincidence that we read this gospel on Christ the King Sunday.  In the reading, Jesus is identified with imperial irony as "the king of the Jews" and the criminal asks to be remembered when Jesus comes "into [his] kingdom."  Jesus' gracious response underlines the sharp contrast between two political realities:  the kingdom of God, which Jesus lives and proclaims, and the violent, threatened empire which crucifies him.  Sentenced to death, Jesus' own "death sentences"–"Father, forgive them" and "today you will be with me in Paradise"–are really sentences conferring life 
Discussion Questions
Why was Jesus given the death penalty?  How was he considered such a threat to society that he had to be executed so quickly on a verdict from a shoddy trial?
In what ways are the kingdom of God and the government of the United States similar?  In what ways are they different, and what should we do about it?
 Who has wronged you, and how?  What and how much are you able to forgive?  How do you balance justice with mercy?
How has Jesus given you life?
Activity Suggestions
Investigate the position of your political representatives (governor, state representative and senator, House representative and state senators, etc.) on the death penalty and write them a letter outlining your agreement and/or disagreement with their stance.
Study/discuss painter Marc Chagall's "White Crucifixion" and its historical  context.  (http://www.davidrumsey.com/amica/amico249474-5325.html).  If possible, invite a rabbi and a pastor to join you.  What are the parallels and differences between Jesus' death, the Holocaust of Nazi Germany, and political injustices happening today?
Closing Prayer
Christ our King, you respond to violence with peace and bring new life in the midst of death.  Share your forgiveness and faithfulness with us, that we also might bless our troubled world with your courageous compassion and resilient grace.  Amen