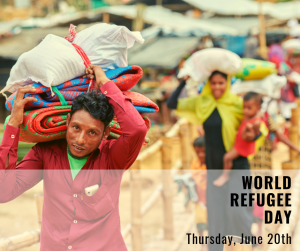 Nearly 69 million people have been forcibly displaced from their homes by violence, poverty, war, discrimination and marginalization, natural disasters and the effects of climate change. This year, for World Refugee Day – the international observance, held on June 20th, dedicated to raising awareness of the situation of refugees around the world – Lutheran Disaster Response will add our church's voice to the conversation to build awareness around global migration. The ELCA is already engaged in several responses to critical crises, including migrants, internally displaced persons, and host communities, in the global and domestic context. We have relationships both within the ELCA and with global companions through which we walk alongside communities through providing humanitarian assistance, extending a welcome to the stranger and encouraging those in power to work for peace through just policy.
Follow us on Facebook and Twitter next week as we explore what is happening both domestically and internationally around global migration and how our church, through Lutheran Disaster Response, other ELCA ministries, and partners, are walking with our neighbors on the move.
---
Be a part of the response:
Pray
Continue to pray for all those impacted by forced migration.
Give
Thanks to generous, undesignated donations, Lutheran Disaster Response is able to respond quickly and effectively to disasters around the globe. Your gifts to Lutheran Disaster Response will be used where there is the greatest need.
Connect
To learn more about global migration and what Lutheran Disaster Response is doing: