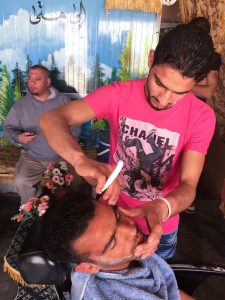 In 2016, shortly after I started with Lutheran Disaster Response, I visited the Za'atari refugee camp in Jordan. Among those I met was Louie*(pictured), 19, and his family. While visiting him his barbershop, we talked about his hopes for the future. "I think it'd be very difficult to go back to Syria," Louie says. "I just want to go somewhere that is safe, where I can make a life for myself." Three years later, having learned of several long-standing and new migration crises, Louie's words ring true for forcibly displaced people across the globe.
UNHCR shared updated numbers showing that over 70 million people have been forcibly displaced from their homes by violence, poverty, war, discrimination and marginalization, natural disasters and the effects of climate change. This equates to one person fleeing their home every two seconds.
On this World Refugee Day, we acknowledge those who make the hard decision to leave home, often leaving everything behind, to seek safety and a new life for themselves and their families.
In 2018, Lutheran Disaster Response supported over  1.1 million dollars in work with refugees, migrants, and internally displaced persons – people from Venezuela, Cameroon, Democratic Republic of the Congo, South Sudan, Somalia, Syria, Iraq, Myanmar, and elsewhere. With the continued partnership of companion churches, partner organizations, and ELCA synods and congregations we will continue to bring hope in the face of suffering to people on the move.
If you haven't already, follow us on Facebook and Twitter to explore what is happening both in the U.S. and the globe relating to global migration and how our church, through Lutheran Disaster Response, other ELCA ministries, and partners, are walking with our neighbors on the move.
---
Be a part of the response:
Pray
Continue to pray for all those impacted by forced migration.
Give
Thanks to generous, undesignated donations, Lutheran Disaster Response is able to respond quickly and effectively to disasters around the globe. Your gifts to Lutheran Disaster Response will be used where there is the greatest need.
Connect
To learn more about global migration and what Lutheran Disaster Response is doing:
*Named changed to protect identity.