​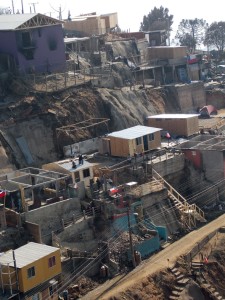 On April 12, a raging wildfire enveloped the city of Valparaiso, Chile. Narrow, hillside roads and the lack of water or fire hydrants made controlling and extinguishing the fire very difficult. Fifteen people died as a result of the fire, which consumed 1,090 hectares (approximately 2,692 acres) and destroyed 2,900 homes, leaving approximately 12,500 people displaced.
Valparaiso is the Chilean city with the greatest number of low-income neighborhoods, with 22 percent of the city's population living well below the national poverty line. Many people are worried about being evicted from their area and forced to move to other zones of Valparaiso.
Working with the Educación Popular en Salud Foundation (EPES), Lutheran Disaster Response is assisting those impacted by the fire by providing housing assistance and psychosocial support for women and children.
Rebuilding Homes
Currently, many residents who lost their homes are now living on their former property in tents or unstable structures built from tin and boards rescued from the fire. These dwellings are not waterproofed and provide no insulation from the winter cold and rains that are now occurring in the region. Lutheran Disaster Response, along with our partner, EPES will provide resources to 300 families to help them improve the conditions of shelter and winterization in their emergency houses.
Hope and Healing
The psychosocial support is grounded in a community participation strategy. Sessions will take place at a community center where 45 women and 300 children will be able to talk in a safe environment to diminish psychosocial injury and motivate family support and participation.
In the immediate aftermath of the fire, thousands of volunteers from around the country responded to the emergency. Few of those volunteers who worked in the initial weeks are present today, but families still need assistance. Lutheran Disaster Response is committed to providing long-term assistance to people whose lives have been disrupted by disaster. Thanks to your generosity, Lutheran Disaster Response is able to walk with our brothers and sisters in Valparaiso as they continue on their journey of recovery and rebuilding.
If you would like to help support the church's work in Valparaiso, please visit the Lutheran Disaster Response giving page.