Megan Brandsrud
Just a little more than two weeks after thousands of people died in the massive earthquake that struck on April 25, a second earthquake hit Nepal.
Around 12:50 p.m. local time today, May 12, a 7.3-magnitude earthquake struck Nepal approximately 47 miles northeast of its capital, Kathmandu – an area already affected by the April 25 earthquake. The earthquake, while still considered an aftershock of the previous quake, was followed by several strong aftershocks that continue to be felt in the region.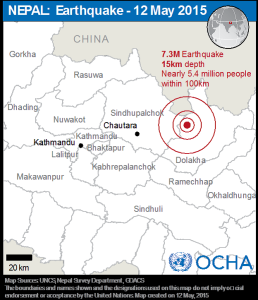 Photo courtesy of UN OCHA
As of publication time, at least 66 people are reported dead and at least 1,261 people are injured following today's quake. These numbers may rise as there are many reports of people trapped beneath rubble.
Similarly to the April 25 earthquake, today's earthquake affected surrounding countries, with reports of loss of life, injury and structural damage in India and Tibet. Landslides were reported in the Himalayas. Many villages on the outskirts of Kathmandu have been severely affected by the earthquake, and they are only accessible on foot, making it difficult to carry out relief efforts.
Houses and buildings that were damaged from the previous earthquake have now collapsed after today's quake, and new damage to homes and infrastructure is being reported across many of Nepal's districts.
People are once again leaving their homes to camp out in any available space outside while aftershocks continue and fear of another large earthquake runs rampant.
This level and frequency of seismic activity is not unprecedented, especially in the region of Nepal. The U.S. Geological Survey predicted about a week ago that there was at least a 50 percent chance of a second strong earthquake. Every quake and aftershock causes disruption, which means that tremors will once again increase in frequency and intensity and could take weeks or months to die down. This activity is cause for concern as monsoon season in the region is quickly approaching.
Lutheran Disaster Response was already working with our partners, The Lutheran World Federation, Lutheran World Relief and United Mission to Nepal, to assist in the recovery from the April 25 earthquake when today's quake hit. All of our partners have reported that they are safe, and the initial recovery work continues while assessments are being made to determine how the response will now expand to include needs from the recent earthquake.
This is a time of uncertainty and fear for the people of Nepal and its surrounding countries, and we hold them in our prayers as we walk with them through every phase of this disaster recovery process. Our work will continue and grow to assist those who need it most.
To join in the response, please visit the Nepal Area Earthquake response page. Your gifts will be used in full (100 percent) to assist in the growing need for recovery projects as seismic activity in the region continues.