​In response to the April 25 earthquake that struck Nepal and surrounding countries, Lutheran Disaster Response is committing an initial $500,000 to assist in the recovery and rebuilding in the affected areas. This recent earthquake, registering 7.8 magnitude, was the most powerful earthquake to have hit the region since 1934, and as of May 4, 2015, more than 7,270 people have been confirmed dead and more than 200,000 homes have been completely destroyed.
We will be working with our trusted partners who have been on the ground since the earthquake struck to assist in providing for the most pressing emergency needs. Through ACT Alliance, we have committed $200,000 to The Lutheran World Federation and $200,000 to Lutheran World Relief. A separate $100,000 has been committed to United Mission to Nepal.
"Lutheran Disaster Response has a strong commitment to provide humanitarian assistance where the need is the greatest, and we are pleased to be working with these very professional partners on the ground," says Vitaly Vorona, program director for Lutheran Disaster Response. "A quick action is needed due to the start of the monsoon season in a few weeks. Our response will help address immediate needs and will allow us to build a good foundation for the long-term reconstruction phase."
The Lutheran World Federation
Working with The Lutheran World Federation, we will be active in several districts, including Kathmandu, Lalitpur, Bhaktapur, Sindupalchowk, Dhading, Lamjung, Kabre and Gorkha. The Lutheran World Federation is the lead implementing partner with ACT Alliance, and the organization has been working with the Nepalese government. The Lutheran World Federation also has a regional emergency hub located in Nepal that Lutheran Disaster Response provides support for annually. Response activities will focus mostly on immediate needs, including shelter, food, water, non-food items and psychosocial support.
Shelter: 12,000 families will receive tarps and materials for temporary shelter, and 1,000 families will receive vouchers for home reconstruction materials.
Food: We will provide food for 20,000 families who are currently living in temporary campsites. The food provided will be appropriate for a sufficient and nutritionally-balanced diet.
Water: We will help provide access to clean water for 15,000 families to have at their temporary displacement sites and at their permanent homes.
Non-food items: Non-food items, such as cooking utensils and baby care kits will provide assistance for 20,000 families who are currently living in temporary campsites.
Psychosocial support: Community-based psychosocial support is inherent for the affected communities' wellbeing. Support will be provided to help strengthen and mobilize social groups in communities.
Lutheran Disaster Response funds at work. Distribution of blankets and other non-food items in Nepal with The Lutheran World Federation.
Lutheran World Relief
We will be working with Lutheran World Relief in Lamjung and Gorkha districts of Nepal to provide shelter repair materials and non-food items.
Shelter: Cash transfers for shelter repair materials will assist 1,500 households rebuild their homes that were destroyed by the earthquake.
Non-food items: Blankets, quilts, personal care kits and water purification units will be distributed to help provide basic personal needs to people who have been affected by the disaster.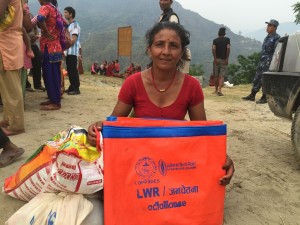 Lutheran Disaster Response funds at work. Distribution of tarps for shelter with Lutheran World Relief.
United Mission to Nepal
We will work with United Mission to Nepal to assist in recovery activities in Dhading district. Dhading district was severely affected by the earthquake and has many recovery needs, and United Mission to Nepal has almost ten years' worth of development experience in the district. The focus of our work with United Mission to Nepal will be on immediate relief items, such as food, water, sanitation and hygiene materials, medication and shelter for more than 8,600 households.
"Nepal is a country where poverty and underdevelopment continue to be issues," says the Rev. Franklin Ishida, Global Mission area program director for Asia and the Pacific. "The ELCA has long supported organizations that are devoted to bringing holistic development to the people of Nepal. Most of our companions are deeply engaged with relief activities and it is our intention to continue to find ways of supporting this work."
The disaster response work in Nepal is just beginning, and our strong network of connections in the region positions us to play an active role in the long-term rebuilding plan. If you would like to support Lutheran Disaster Response's work in Nepal, please visit the giving page. Gifts will be used in full (100 percent) to assist in the Nepal Area Earthquake disaster recovery work. Please continue to hold those who were affected by the earthquake in your prayers.