​It has been three days since the second earthquake in less than three weeks hit Nepal. (First earthquake: April 25; second earthquake: May 12) Aftershocks are still being felt, which continue to generate landslides. The landslides and debris are blocking roadways, which is making transportation difficult—especially in remote villages. These obstacles combined with the approaching monsoon season are making relief activities a little complicated. However, Lutheran Disaster Response and our partners on the ground are continuing to reach as many people as possible and are committed to providing assistance to those who need it most.
The Lutheran World Federation (LWF)
Working with LWF, we have distributed relief items to 8,957 households (43,703 people) across Bhaktapur, Lalitpur, Rasuwa, Sindhupalchowk and Kathmandu districts. More than 96 tons of rice, 24 tons of lentils, 6,100 tarps, 7,000 blankets and 1,200 bars of soap have been distributed to families. Several other items, such as solar lamps and hygiene packs have also been provided for people who need them most.
Distributing blankets in Lalitpur, a village that was completely destroyed by the earthquake. Credit – LWF
LWF is the lead agency in the ACT Alliance response. Dr. Prabin Manandhar, the LWF country director in Nepal, was recently appointed to the "Disaster Management Coordination Committee" in Nepal that was formed by the Nepalese government. The committee will focus on relief and reconstruction activities, and Dr. Manandhar is one of four people on the committee who is representing international non-governmental organizations in Nepal.
Lutheran World Relief (LWR)
With Lutheran World Relief, we have distributed food packets and shelter items in Gorkha and Lamjung districts. Nearly 2,000 food packets that will be sufficient for 15 days for families of five have been distributed. The food packets consist of rice, sugar, lentils, salt and oil. More than 2,100 tarps that can be used for shelter material have been provided. In all, 2,362 households (11,810 people) have received food packets and tarps, and there are immediate distribution plans for at least 1,000 more families.
Lutheran World Relief is also working with LWF to plan distributions for 9,240 quilts, 1,000 personal care kits and 100 water filtration units that have been shipped to Nepal in coordination with the United Nations.
While continuing to assist in immediate relief, we are working with Lutheran World Relief to assess for long-term responses, including home rebuilding, livelihood rehabilitation and longer-term food assistance.
United Mission to Nepal (UMN)
We are working with UMN on relief activities in Dhading district, Nepal, where UMN has been active for almost 20 years. Trucks, tractors and helicopters are being used to distribute relief items to families in villages that have been hard hit by the earthquake that are difficult to access due to damaged roads and landslides. Some families have walked three to four hours for supplies because that is the closest the trucks and helicopters could get to them, as many of the villages are only accessible by foot.
In Chimchok, food packs, utensils and hygiene kits have been distributed to 723 households.
Over the course of seven helicopter flights, food packs were distributed to 144 households in four villages of Jharlang and two villages of Lapa. The walking paths in these areas have even been destroyed due to broken suspension bridges and landslides.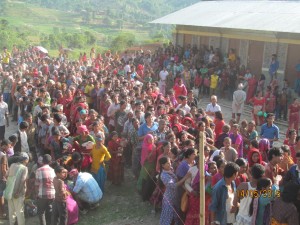 People line up to receive relief distribution in Jeevanpur, Dhading. Credit – UMN
UMN's hospitals in Tansen and Okhaldhungaare have not sustained major earthquake damage, so they are both functioning beyond full capacity. All of the beds in each hospital are full, and some beds are being set up in training halls and a new hospital building that is still in the process of being constructed. Some shelters have been constructed outdoors, since some patients are nervous to stay indoors due to continued aftershocks and the fear of another quake.
We give thanks for our wonderful partners and we are grateful to be working with these trusted and experienced organizations to assist people who have been affected by the Nepal earthquakes. More distributions are scheduled and plans are underway to continue reaching people who are living in remote areas. As the immediate relief process moves forward, assessments are also being made for long-term response and the rebuilding phase that will follow.
Please continue to hold the people who have been impacted by these earthquakes in your prayers. If you would like to support Lutheran Disaster Response's work in Nepal, please visit the Nepal Area Earthquake giving page.
Follow Lutheran Disaster Response on Facebook and Twitter for more updates.