Megan Brandsrud
​Lutheran Disaster Response was awarded "Innovative Program of the Year" for its storm shelter pilot project during last week's National Voluntary Organizations Active in Disaster (NVOAD) annual conference in New Orleans. The award recognized our work with our partners, Upbring (formerly Lutheran Social Services of the South) and Federal Alliance for Safe Homes (FLASH), on this project that assists families in tornado-prone communities.
The pilot project was developed to help people who have been affected by tornadoes by providing resources and technical support to install storm shelters on their properties. During the year-long pilot project, 206 families in the greater Oklahoma City area and 19 families in Louisville, Miss., received storm shelters. We worked with long-term recovery groups in these two tornado-affected areas to identify families who were most vulnerable to tornadoes and to provide case management in the storm shelter selection and installation process.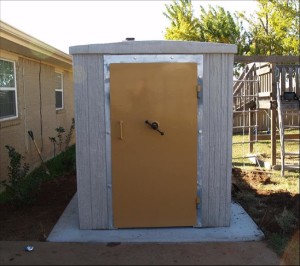 Pictured: A storm shelter that was selected based on a family's specific needs and installed on their property.
The storm shelter project is continuing beyond this pilot year, and more storm shelters are slated for installation. The learnings from the pilot will be used to help create and advise national guidelines for other storm shelter programs around the country.
This award comes at a time that serves as another reminder of the importance of storm shelters and disaster preparedness, in general. Today marks two years since deadly tornadoes tore through Moore, Okla., and the surrounding area leaving physical and emotional destruction in their path. We remember the people who were affected by these tornadoes and we hold them in our prayers as we acknowledge that they are still on their journey of recovering and rebuilding. And, we give thanks for our partners who have helped us implement the storm shelter pilot program—a project that provides physical safety and peace of mind for people living in these tornado-prone areas of the country.