​The April 25 and May 12 earthquakes in Nepal affected more than 8 million people. Thanks to your generosity, Lutheran Disaster Response was able to provide assistance right away, working with our partners on the ground – The Lutheran World Federation, Lutheran World Relief and United Mission to Nepal. Since the earthquakes, we have been helping provide for immediate needs with distributions of emergency food packs and shelter kits. Along the way, we have heard many stories of how the earthquakes have affected families and the way of life in villages around the country.
Below is Krishna's story that has been shared with us from our partner, Lutheran World Relief.
Krishna has lived in the village of Jaubari Dhansar her entire life. Located in the remote Gorkha District of Nepal, it is among the hardest hit by the 7.8 magnitude earthquake that struck Nepal April 25.
In fact, the village is so remote that LWR team had to switch from regular four-wheel drive SUV to a customized Jeep designed to navigate the rough terrain. It took more than two hours to drive less than 20 miles, with no sight of paved road for most of the trip.  It takes the villagers more than four hours and costs $2 in bus rides to get to the nearest town.
Krishna says she feels lucky that her family – including her husband, two sons and pregnant daughter-in-law – weren't harmed in the quake. It struck during a time when many people in the village are usually outside sitting or working.
While Krishna is thankful to have survived the earthquake, she says she's lost all her belongings. Her family's food supply is buried under the rubble and she says it will take them years to rebuild their house on the roughly $8-10 per day income her husband and sons bring home from working in the nearby town. As for herself, Krishna says she's traumatized. "It feels like the earth is shaking all the time," she says.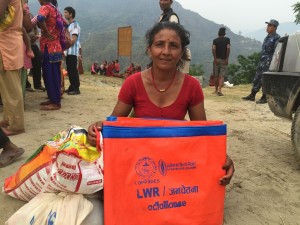 Pictured: Krishna received a temporary shelter kit and food pack during a distribution with Lutheran World Relief and other partners in Nepal.
Krishna said she's had to borrow food from those who had some left. The food packages LWR distributed that day are designed to last 15 days for a family of five, but she hopes it will last longer. The family also received a 12- by 15-foot tarp to cover the roof of their house.  This will help protect Krishna and her family from the rains, which will intensify during the upcoming monsoon season, which runs from June through September.
The food pack and tarp will help provide for immediate needs for Krishna and her family, and we will continue to work with Lutheran World Relief, The Lutheran World Federation and United Mission to Nepal to provide long-term assistance. We will be there to help families like Krishna's rebuild their homes and restore livelihoods so we can help them recover and increase their resilience to disasters.
If you would like to continue to support Lutheran Disaster Response's work in Nepal, please visit the Nepal Area Earthquake giving page.