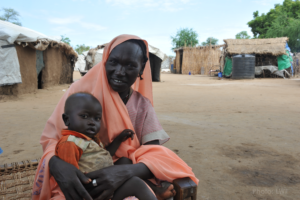 Over 62 million persons have been displaced from their homes by violence, poverty, war, discrimination and marginalization, natural disaster and the effects of climate change. The United Nations High Commissioner for Refugees has found that about 51% of refugees are children. These large numbers of children, along with high numbers of women and elderly, are even more vulnerable as they are more likely to experience to abuse, sexual violence, and neglect.
The situation of large-scale movements of migrants and refugees has become such a global concern that it has led the United Nations to call a high-level meeting of Member States on September 19, 2016. It will review the overall situation and consider, among other things, processes to lead to the development of new "global compacts" with respect to refugees on the one hand and to migrants on the other.
Love is patient, love is kind. It does not envy, it does not boast, it is not proud. It does not dishonor others, it is not self-seeking, it is not easily angered, and it keeps no record of wrongs. Love does not delight in evil but rejoices with the truth. It always protects, always trusts, always hopes, and

always perseveres. (1 Corinthians 13:4-7, NIV)
Over and over again, God implores us to love our neighbors and bear their burdens. The refugee and other displaced persons are our neighbors. In 1 Corinthians, it says that love "always protects, always trusts, always hopes, and always perseveres."
Over the last three years, Lutheran Disaster Response has invested about 2.5 million dollars in various global migration causes. While Lutheran Disaster Response continues to bring God's help, healing, and hope, the Global Mission unit of the ELCA has been asking how, as a unit, we can serve our neighbor more efficiently. We have made a commitment to use accompaniment values to build awareness around the issues facing the world's displaced persons, especially children, women and families, and advocate domestically and internationally for their well-being and dignity.
---
Be a part of the response:
Pray
Continue to pray for displaced persons around the world, may God's healing presence comfort them in their time of need.
Give
Your gifts to Lutheran Disaster Response will be used where there is the greatest need.
Connect
To learn more about global migration and what Lutheran Disaster Response is doing: