​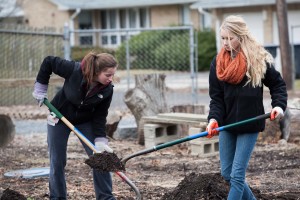 On Jan. 20, Martin Luther King, Jr.'s National Day of Service, Lutheran Social Ministries of New Jersey (LSMNJ) organized more than 50 volunteers who offered a helping hand to the many people in the area still dealing with impacts from Superstorm Sandy. Volunteers, ranging in age from 7 to 65 years old, hauled debris, prepared the community garden at the Visitation Relief Center in Brick, N.J., helped insulate pipes in a home impacted by the storm, tore out damaged flooring at an American Legion Hall, and assisted in several other projects.
Every month, LSMNJ Disaster Response organizes a "Hand in Hand" Sandy Service Day in coordination with area long-term recovery groups and other partnering recovery organizations.
Assistant Disaster Recovery Coordinator Alex Elefante is impressed by the selflessness of the volunteers that show up at the monthly events. "They amaze me each time," Elefante says. "The positive impact they have on the lives of those still affected by Superstorm Sandy, even if for a little while, is tremendous.
The next "Hand in Hand" Sandy Service Day will be Feb. 15. To sign up or learn more about the volunteer event, visitwww.lsmnj.org.