​Thanks to your generosity, Lutheran Disaster Response has collected more than $1.9 million to respond directly to the Nepal Area Earthquakes. Together, we were able to provide $527,700 to respond to the immediate needs of the people and communities affected, and we will continue to walk with our brothers and sisters in Nepal to rebuild lives and livelihoods as long-term response projects get underway.
We continue to work with our trusted partners, The Lutheran World Federation, Lutheran World Relief and United Mission to Nepal, to respond and provide assistance in the affected areas. Immediate response efforts have been in action since the day after the earthquake and many emergency distributions have been completed.
The Lutheran World Federation
Working with The Lutheran World Federation, we have distributed shelter repair materials, ready-to-eat food, blankets and hygiene kits to more than 21,000 households in 27 towns and villages in Nepal. Next phases of response are being rolled out, which includes distributing corrugated iron sheets in addition to tarps for families to use for shelter repair against the heavy monsoon rains.
While recovery of physical property is important for the safety of families who were affected by the earthquakes, care for the all-around well-being of those impacted is something that cannot be overlooked. With The Lutheran World Federation, we will provide community-based psychosocial support that will reach approximately 14,000 people. Working with community leaders, community-based psychosocial support will help people build their strength and build resilience in their villages, which will help improve their coping mechanisms.  These community-led groups will be able to serve as sustainable structures that will continue to help improve life for people who face hard times as recovery from the disaster moves into the future.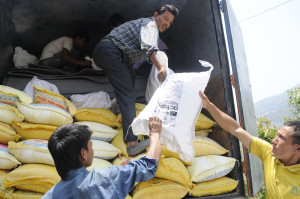 Lutheran World Federation (LWF) delivers relief supplies in Bhirkot Dolakha area, Nepal
Lutheran World Federation (LWF) workers distribute relief materials in Bhirkot Dolakha area, Nepal
Lutheran World Relief
Together with Lutheran World Relief, we have provided temporary shelter and emergency food assistance to nearly 30,700 individuals. Nearly 10,000 quilts, 1,000 personal care kits and 100 water filtration units have also been distributed. As we move into the next phase of recovery, soybean seeds are being distributed to families who rely on agricultural livelihoods to help support the livelihood recovery and food security after the monsoon season passes. In addition, a cash-for-work program focusing on repairing roads throughout the rural areas is being implemented. The program will not only provide families with much needed cash but will also help improve road conditions in the region.
United Mission to Nepal
Working with United Mission to Nepal, all planned distributions of emergency food, kitchen utensils, tarps and blankets in Dahding district of Nepal have been completed. Community-based health trainings have also taken place in three Village Development Committees in Dhading.
Moving to long-term response, we are working with United Mission to Nepal to support 90 families that are members of a savings and credit cooperative that started in 1999. The ELCA has supported this co-op over a number of years. As part of the earthquake response, we will work to assist families in the co-op by:
Distributing hygiene kits
Distributing kitchenware and utensils lost in the quake
Providing for psycho-social counselling
Helping create income-generating activities
Providing financial support for home rebuilding and repair
We will also work with United Mission to Nepal to help with repairs and rebuilding projects for Elim Kids Academy, a Christian school that the ELCA helps support by providing for scholarships and teacher training programs.
As we transition from immediate relief to long-term response, we will continue to keep you updated as we work with our partners in the regions to assist those who were affected by the earthquakes to recover and rebuild. Please continue to hold the people of Nepal in your prayers as they continue on this journey of disaster recovery.
Please support the Nepal Earthquake Response by visiting the Lutheran Disaster Response giving page.