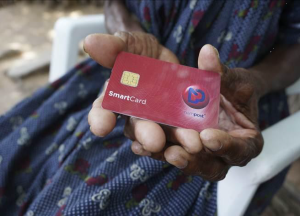 Namibia is facing one of the worst droughts it has seen in more than 25 years. According to a report from the United Nations, 778,504 people do not have food security, and 169,000 children are at risk of malnutrition.
Certain areas of the country have experienced some rainfall and have started to plant fields, but it is too early to guarantee a secure harvest. Food stocks are depleted and market prices are extremely high for both food and seed.
This situation demands immediate action because people can't wait for a bountiful harvest; they need food right now. Working with Lutheran World Federation (LWF), Lutheran Disaster Response has added $80,000 to our July 2013 disbursement of $150,000 for those impacted by the drought conditions.
The funds will be used to provide cash grants to 4,860 people living in four of the hardest hit communities in Namibia. The cash grants will help people cover their basic food needs during this transition period before harvest. Money paid out will be stored on a chip card that will be issued to the designated family member. Both male and female heads of households will be included in this distribution process. Unlike in-kind distribution of goods, these cash grants allow families to prioritize their spending based on their own needs, as not all households have the same needs even though they are affected by the same disaster.
Our global companion churches, the Evangelical Lutheran Church in the Republic of Namibia and the Evangelical Lutheran Church in Namibia will help with the implementation of the food security projects.
The drought has caused malnutrition, which has led to disease and death. Children are the most vulnerable to these effects. Thanks to your gifts, we are able to help provide where resources are needed most. We will continue to walk with our brothers and sisters in Namibia and pray for food security.
Who will separate us from the love of Christ? Will hardship, or distress, or persecution, or famine, or nakedness, or peril, or the sword? No, in all these things we are more than conquerors through him who loved us. Romans 8:35, 37