​​Lutheran Disaster Response has a long history of providing clean, unpolluted water for drinking, cooking and cleaning in areas that have experienced disaster. We have many water programs around the world, from places impacted by drought to refugee camps where potable water is scarce.  Below are two programs where your gifts helped provide clean water.
Uganda
Working with The Lutheran World Federation (LWF), we have implemented a safe water project among Congolese refugees in Rwamwanja Settlement of the Kamwenge District in Uganda. Ten deep boreholes were drilled and installed in and around the settlement, and water source committees were formed to provide education about sanitation and to help maintain the boreholes.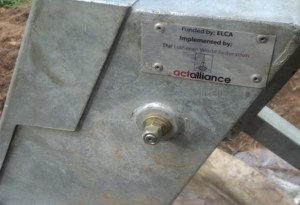 Providing additional water sources reduced the distance and time taken to access clean water, and they increased the level of safe water consumption in households. This meant that there was a decrease in the number of waterborne diseases and an improvement in overall health and diet. The reduced distance also meant that traveling to get water became safer for women and girls, who are often vulnerable to sexual and gender-based violence.
Some water points were provisioned near the camp's host community, which also promoted a peaceful co-existence between the refugees and the host community members.
Kenya
In partnership with The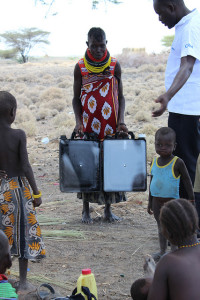 Lutheran World Federation, we have been a part of a pilot solar safe water system in Kakuma refugee camp in Kenya. The project aims to support environmental conservation through alternative energy and to reduce the number of waterborne diseases.
The device is specially designed to use heat, UV light and a built in filter to clean contaminated water. The system generates approximately 40-60 liters of safe water per household every day. This water has had a profound impact on the community. Children suffer from less illnesses and eye infections by having easy access to clean, warm water. Firewood use has decreased by 20 percent since water no longer has to be boiled to make it potable. People have also said that the easy access to safe water gives them more free time, which is now spent on income-generating activities, such as agriculture.
Water is a precious resource. The United Nations reports that 783 million people do not have access to clean water, and almost 2.5 billion people do not have access to adequate sanitation. Because of this, 6-8 million people die every year from water-related diseases. Potable water programs have a huge impact on communities. Thanks to your generosity, Lutheran Disaster Response is able to help implement clean water programs in areas that have been impacted by disaster. We continue to pray for those who thirst, and we will continue to walk with those who are dealing with the vast consequences of disasters.
The poor and needy search for water, but there is none; their tongues are parched with thirst. But I the Lord will answer them. – Isaiah 41:17
Pictured:
Above: Pump head of a drilled borehole. Below: Member of LWF introducing the solar water filter.