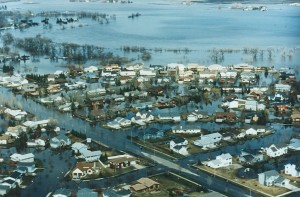 In mid-April 1997, following a harsh winter with above-normal snowfall, the Red River of the North flooded the Red River Valley, resulting in the worst flood in the area since 1826. The riverbed that is normally 100 yards became 25 miles wide. The Red River flooded 2,200 square miles in North Dakota, an area twice the size of Rhode Island.
Cities from Fargo, N.D., to Winnipeg were impacted, but none as severely as the greater Grand Forks, N.D., area. Nearly all of Grand Forks' 52,000 residents had to be evacuated while more than 75 percent of the city was engulfed by the flood.
In the end, the impacted regions experienced more than $3.5 billion in flood damages.
Governmental agencies, non-profit organizations and faith-based agencies from around the country responded to the Red River flood. Lutheran Disaster Response, working through our affiliate, Lutheran Social Services of North Dakota, joined other responding agencies to form the Resource Agencies Flood Team (RAFT) to best provide efficient, relevant service to those impacted by the flood.
Lutheran Disaster Response assisted in providing financial assistance for personal items and home rebuilding, coordinating volunteers for home rebuilding, matching donations with needs, and providing encouragement and spiritual support. Lutheran Disaster Response also loaned out equipment to homeowners for rebuilding and provided sheetrock to Lutheran churches.
Since the 1997 Red River flood, the greater Grand Forks area has implemented changes to prevent a disaster of this size from occurring again. Permanent dirt and clay dikes were constructed in areas of the city, and East Grand Forks, Minn., widened the area next to the river by moving businesses behind a new wall. The downtown businesses of Grand Forks and East Grand Forks are protected by a permanent brick/cement wall system constructed along the riverbank.
On this 17th anniversary of the Red River flood, we turn to God to pay memory to the trial and give thanks for the renewal and hope found in the promise of His love.
Then God said to Noah, "Go out of the ark…Bring out with you every living thing…so that they may abound on the earth." Then Noah built an altar to the Lord. Genesis 8: 15, 17, 20