​Security in the Central African Republic (CAR) still remains a major issue, as armed fighting and looting continues. According to a May 1, 2014, report from the United Nations, there are approximately 584,000 internally displaced persons (IDPs) in CAR and more than 2.5 million people who are in great need of assistance.
United Nations International Children's Emergency Fund (UNICEF) says the number of children being treated for severe acute malnutrition in CAR has tripled. This is in large part a result of families missing last year's planting season because of the violence in the country and thus having a minimal harvest this year. The fighting in CAR has also disrupted many families' livelihoods, meaning there isn't money to buy food.
Knowing that food security is a major concern in CAR, Lutheran Disaster Response collaborated with our global companion church, the Evangelical Lutheran Church of the Central African Republic (EELRCA), to provide assistance. From April 17 – April 29, Lutheran Disaster Response, with the EELRCA, distributed seeds and farming tools to people in the Bohong region of CAR who have been impacted by the ongoing armed violence in the country.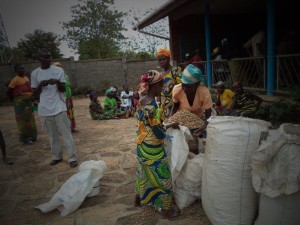 Since the rainy season is approaching in CAR, the seeds are arriving just in time for planting. This will allow farmers to restore their livelihoods and have food for next year.
The supplies included:
12.2 tons of seed for corn
2.7 tons of seed for beans
5.2 tons of seed  for peanuts
2,000 hoes (hand plows)
600 files for sharpening the hoes and other farm tools
More than 2,000 households received seed and farming supplies from the distribution.
The EELRCA is committed to serving as the church even though they are living in the midst of this crisis, and with them, Lutheran Disaster Response is providing assistance to those who need it most.
"We thought that we were abandoned to ourselves, but the church is always thinking about us," said one beneficiary at the seed distribution.
A woman who received seed expressed how this will help her restore her livelihood. "I am filled with joy," she said. "I will plant the seed and after harvest, I will eat and sell the surplus. Thanks to all the people [in the USA] who are thinking about us."
Committed to an inter-faith reconciliation, the EELRCA welcomed anyone who could benefit from the seed distribution. One Muslim man who received seed was happy to be able to plant and harvest food for himself and his neighbors.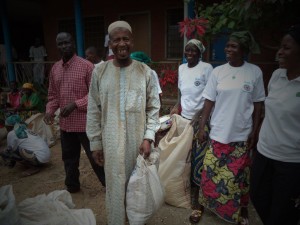 The need in CAR is still very great, and we will continue to work with our companion, the EELRCA, as we provide assistance to people in CAR who are still being impacted by the violence in their country.
President Golike of the EELRCA will be visiting the ELCA Churchwide Office during the week of May 12. Stay tuned for a new post with an interview with President Golike.