On April 14, 6:25 pm local time, a 6.5-magnitude earthquake hit Kumamoto, Japan. Another 7.3-magnitude earthquake hit Kumamoto only 2 days later. Over 1,000 aftershocks continued to shake the area between and after the 2 earthquakes. To date, there have been 49 confirmed deaths, including a member of Kurume Lutheran Church, and over 25,000 buildings deemed unsafe, leaving many homeless. The ELCA has 10 mission personnel in Kumamoto and along with our companions, have been reported safe. Lutheran-affiliated buildings received some damage.
Nobuo Inoue's Story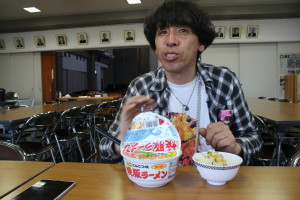 Nobuo Inoue's home was fine after the first earthquake on April 14. However, the second quake, in the early hours of April 16, made his house completely unstable. "I don't know how I got out," recounts Inoue. "The power had gone out and somehow I escaped my house," he said. "If there was any sign of hope, the cross I had hanging in my entrance way remained."
Being in the construction business, Inoue was called by Pastor Motoi Koizumi to come help repair some damage done to Kengun Lutheran Church. "I felt so alone after escaping my house that I came right to church."
Now, Inoue lives in his car while he takes his meals at the church. In fact, the church has housed as many as 40 whose homes became inhabitable after the earthquakes, as well as proving meals to those whose livelihoods have been disrupted.
Inoue can safely re-enter his house and in his gratitude for what his congregation has done to help him, he wants to take in those who remain homeless.
Story and photo by: Franklin Ishida, Area Director for Asia Pacific
The earthquakes were the strongest that have hit Japan in the last five years. The Lutheran churches and schools in Kumamoto are gathering points for people, like Nobuo, in their communities, and their members are helping provide whatever assistance is still needed. Working with our trusted partners and the Japan Evangelical Lutheran Church, Lutheran Disaster Response is working to bring God's hope, healing, and help to those affected by the earthquakes.
---
Be a part of the response:
Pray
Continue to pray for the people affected by the earthquakes. May God's healing presence comfort them in their time of need.
Give
Gifts to Lutheran Disaster Response, International will be used to assist those directly impacted by the earthquake until the response is complete. Select Lutheran Disaster Response, International from the Designation drop-down list.)
Connect
To learn more about the situation and the ELCA's response:
Sign up to receive Lutheran Disaster Response alerts.
Check the Lutheran Disaster Response blog.