What happened?
The first ever World Humanitarian Summit (WHS) took place last week. The summit was a global call to action with three main goals: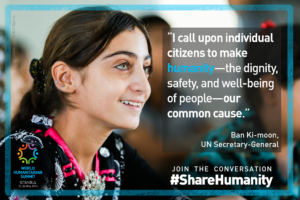 To re-inspire and reinvigorate a commitment to humanity and to the universality of humanitarian principles.
To initiate a set of concrete actions and commitments aimed at enabling countries and communities to better prepare for and respond to crises, and be resilient to shocks.
To share best practices which can help save lives around the world, put affected people at the center of humanitarian action, and alleviate suffering.
At the Summit, global leaders– approximately 5,000 leaders from government, voluntary agencies, affected communities, and many others– were tasked with discussing how to effectively respond to major humanitarian challenges, and how to be better prepared to meet challenges of the future.
United Nations Secretary-General, Ban Ki-moon, lifted up five core responsibilities in his opening statement:
Prevent and end conflict
Respect rules of war
Leave no one behind
Working differently to end need
Invest in humanity
What does this all mean and why should we care?
The world's largest humanitarian crisis, since WWII, is happening right now. In 2015:
125 million people were in need of humanitarian assistance
60 million people were forced from their homes
37 countries were affected
$20 billion dollars were needed
These statistics continue to ring true. Every day, more than 100 million people affected by natural and man-made disasters face impossible choices.
 And you shall love the Lord your God with all your heart and with all your soul and with all your mind and with all your strength.'  The second is this: 'You shall love your neighbor as yourself.' There is no other commandment greater than these.

Mark 12: 31
As members of the body of Christ, we are called to love our neighbor. Love is not still. Love does not look from a far and hope for better. Love creates hope for those affected. Love is action. With the world watching, leaders from all over made commitments to be present in the world and love their neighbors. Lutheran Disaster Response will continue to bring God's hope, healing and renewal to people whose lives have been disrupted by disasters in the US and around the world. Keep us in your prayers as search for more efficient and effective ways to serve our neighbors.
---
Be a part of the response:
Pray
Continue to pray for the people affected by disaster, may God's healing presence comfort them in their time of need.
Give
Your undesignated gifts to Lutheran Disaster Response will be used where the need is greatest.
Connect
To learn more about what Lutheran Disaster Response is doing:
To learn more about the World Humanitarian Summit: