The Romani, or Roma, population has an extensive history in Europe, dating back to the 13th century. Today, with more than 10 million people, the Roma population is recognized as one of the European Union's largest minority groups. Roma people often face discrimination and poverty, and Roma settlements typically lack important infrastructures such as healthcare, education and transportation.
Today, April 8, is International Roma Day. It is a day to celebrate the rich culture of the Roma people, to raise awareness about the difficulties facing Roma people and to fight for justice.
Lutheran Disaster Response, in partnership with Ecumenical Humanitarian Organization (EHO), has been working hand-in-hand with Roma people since May 2014, when a cyclone hit Serbia and many Roma villages were severely affected by landslides and flooding. We initially helped provide immediate relief resources, and we are now working in the communities on home rehabilitation and livelihood development.
While several Roma settlements were impacted by the cyclone in 2014 in Serbia, Roma people are often marginalized and live in areas that are difficult to travel around, so they received little assistance. Lutheran Disaster Response is committed to working with people who are most vulnerable to disasters, and we are pleased to be working with Roma people in Serbia to rebuild villages and increase capacity and resiliency.
In honor of International Roma Day, here is a story from EHO of a family we have worked with following the 2014 cyclone and flooding in Serbia.
Husband and wife S.J. (60) and N.J. (59), both disabled, lived in an apartment without electricity for 10 years. After that, they were given accommodation in shelters composed of a single room and bathroom, but they now had electricity and so were happy with the move. The shelters were in the village of Veliki Crljeni, 12km from the town of Lazarevac, and functioned as accommodation for socially vulnerable families, provided by the town authorities and the Kolubara power company.
That May morning, when the waters began to advance, N.J. was woken by neighbours. Her husband S.J. is hard of hearing and she needs crutches to get around, so they barely had time to take a bag with their documents and medicines and get out. The water was already coming into the apartment.  They managed to get out with the neighbours at the last minute and flee to a nearby hill in the direction of the school, where they were accommodated temporarily.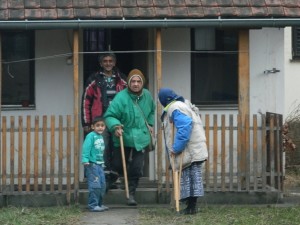 Pictured: S.J. and N.J. stand in front of their temporary shelter where they now live after flooding in May 2014 damaged their home.
After a couple of days, the police and fire service transferred them to the sports centre, and they lived in a sports hall for almost six months. Now they are in temporary accommodation again, in different shelters, awaiting a more permanent solution. 
With Ecumenical Humanitarian Organization, we provided the family a stove so that they could cook and have means to warm their home while they stay in the temporary shelter. The cyclone and flooding in Serbia occurred almost one year ago, but there is still a lot of recovery and rebuilding that is needed. We will continue to work alongside the Roma population as they navigate this process.
We ask that you hold the Roma people in your prayers today and every day – pray that their culture is shared through stories and actions of reconciliation and justice.