Megan Brandsrud
​The sky turns green, then black. Heavy rains subside and there is calm before the sudden shift in wind. The severe weather sirens start sounding as an approaching tornado is spotted. People quickly move to their basements or windowless rooms as they wait for the tornado to pass.
This scene is not out of the ordinary for people living in Tornado Alley, a term coined in 1952 that is used to describe the region of the U.S. where tornadoes are most frequent. However, sometimes basements and windowless rooms do not provide the peace of mind and safety desired against tornadoes, especially those ranking high on the Enhanced Fujita (EF) Scale.
In an effort to provide the security that people who live in Tornado Alley need, Lutheran Disaster Response has partnered with the Federal Alliance for Safe Homes (FLASH) and our affiliate, Lutheran Social Services of the South (LSS/S), to provide storm shelters for people in the Oklahoma City area.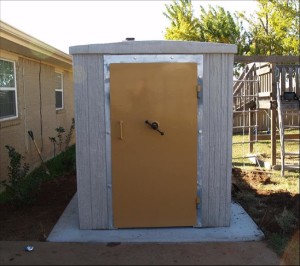 Pictured: A storm shelter is installed on a slab in a family's backyard.
One community that knows the effects of tornadoes too well is Moore, Okla. On May 20, 2013, an EF5 tornado hit Moore, killing 24 people and injuring more than 300. The storm caused severe damage, and clean-up and rebuilding are still continuing today. Over the years, the area around Oklahoma City, including Moore, has been hit with numerous tornadoes. The emotional toll tornadoes have on people in this area leave many fearful this time of year.
To date, 145 storm shelters have been installed in the Lutheran Disaster Response and FLASH joint-Pilot Program. Coordinators in the region have been working with long-term recovery groups in the Oklahoma City area to connect with the most vulnerable families who need a storm shelter.
The storm shelters are installed on families' properties so they can have peace of mind and safety from tornadoes right at home. For the pilot program, the selected storm shelters have either been made of concrete or steel and have been installed in garages, under garage floors with an access panel, outside in the yard, or as fixtures in new homes that are currently being constructed.
There are many factors that come into play when families select which storm shelter is right for them. Tim Smail, senior vice president of engineering and technical programs for FLASH, explains that a flowchart is used to help families choose their storm shelter. The flowchart includes considerations such as the number of people the storm shelter will need to hold, if the storm shelter has to be handicap accessible and what kind of space is available in potential install locations.
Lutheran Disaster Response and FLASH have partnered with the National Storm Shelter Association (NSSA) to make certain that the safe rooms being installed in the pilot program are of the highest quality and have passed standard testing.
"The association works hand-in-hand with our point of contacts on the ground to ensure client needs are met and that the shelters are installed properly," Smail says.
While people who live in tornado-prone areas know the importance of having a safe place to go in times of severe weather, knowing who to work with and having the resources to install a storm shelter can be daunting. The average cost to install a safe room is approximately $4,700, but can range from $4,000 to $10,000, depending on the size and accommodations needed for the family.
"Whatever the situation, most of the people we have worked with are not in a position to afford a storm shelter," says Grant Gatschet, program director with LSS/S for the Storm Shelter Pilot Program. "Across the board, they have all expressed sincere thanks for the program for helping them feel safe and secure in their homes."
As the pilot program wraps up, Lutheran Disaster Response and FLASH are working to make storm shelter installation an embedded part of tornado disaster recovery.  With guaranteed safety and peace of mind, storm shelters are life-saving and life-changing.