Hurricane Matthew ripped through the Caribbean and southeastern U.S. coast, leaving hundreds of casualties, thousands of homes destroyed and millions of people displaced and without power. Lutheran Disaster Response has committed to being present internationally and here in the U.S. Learn more about the different responses: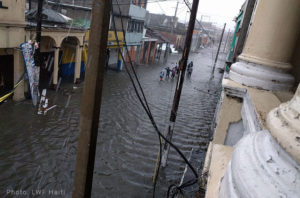 International
In Haiti alone, there have been 473 confirmed casualties. Many more were injured and about 75 are still reported missing. More than 2.1 million have been affected by the hurricane, with over 1.4 million in need of assistance according to a report from OCHA. Lutheran Disaster Response, through key partners on the ground, is helping to provide emergency relief, addressing the immediate needs of the most affected communities. We are also working directly with the Lutheran Church of Haiti (ELH). We will continue to accompany our companions, partners, and the people of Haiti through this emergency.
In Cuba, while there have been no reported casualties, many homes, community buildings, and roads were either destroyed or damaged. More than 176,000 people in five municipalities of Guantánamo had no communication for more than 24 hours due to the collapse of bridges, falling trees, overflowing rivers and water walls, coastal flooding and landslides. Ricardo Suarez, a resident of Baracoa, one of the worst affected areas, said "Matthew devastated this city." Food security for the region was also compromised due to the destruction of coconut, banana and cocoa plantations, which are the main sources of livelihood in the area.
Through our partners, the Cuban Council of Churches (CIC), we are accompanying survivors through the emergency relief phase with food distribution, water and sanitation. This is the first time that the ELCA, through the Global Mission unit, have engaged in responding to a disaster in Cuba. While the situation is unfortunate, we are thankful that this partnership is possible and we will continue to accompany the Cuban Council of Churches and the Cuban people during this time.
"God is our refuge and strength, a very present help in trouble."
United States
Across, Florida, Georgia, and the Carolinas, Synods, have reached out to congregations. Most church buildings did not receive any major damage, though several members across all states have been affected. Our affiliated social ministry organizations worked hard to get clients evacuated and then back into their space. Early on, before and after the storm hit many ELCA congregations and other affiliate ministries were stepping in to be a resource their communities, showing what it means to be "church together."
Before the storm reached the area, Camp Kinard in South Carolina invited anyone still needing lodging to take shelter there. Almost 40 people accepted the offer and had a safe place to wait out the storm. way. "We thank you on behalf of [our family] for helping us in this time of need," one family said. "At the exact moment, God put you in our path when we didn't have a place to go."
Our work is not done. In some of the affected areas in the U.S., flood waters hadn't started to recede until early this week, a whole 2 weeks after the onset of the event. On the ground, in all of the affected states, synods and congregations, affiliate-organizations, and Lutheran Disaster Response coordinators continue to collaborate with local community leaders, civic organizations, ecumenical partners and officials to do initial damage assessments and plan proper responses.
Lutheran Disaster Response will continue to accompany congregations, synods, trusted partners and companion churches  that know the communities well and will walk with people on the road to recovery.
Be a part of the response:
Pray
Please pray for the people who have been affected and are in the path of Hurricane Matthew. May God's healing presence give them peace and hope in their time of need.
Give
Gifts to "Hurricane Matthew" will be used to assist those affected by the hurricane until the response is complete.
Connect: 
Stay connected to the latest events and our response to this and other disasters:
Share this bulletin insert with your congregation.
Sign up to receive Lutheran Disaster Response alerts.
Check the Lutheran Disaster Response blog.