On October 4, 2015, The Carolinas were struck with catastrophic rainfall that shattered records and left unprecedented scenes of flooding in its wake. The hardest-hit areas stretched from Columbia, in the middle of South Carolina, all the way to the coast. The flooding led  to several casualties, tens of thousands left without power, major highway and interstate closings, and many homes completely destroyed.
Pastor Joseph Chu, Associate Program Director, Lutheran Disaster Response – US, reflects on hearing the news and the church's initial response.
October 4th, a year ago, was a Sunday. I remember receiving a call in the afternoon from our disaster coordinator, George Knox of Lutheran Services Carolinas (LSC) in Columbia, S.C. telling me that "…there is water everywhere in South Carolina." Soon we learned that the deadly rain that had taken nearly 20 lives and devastated more than 20 counties was a 1 in 1,000 year event. The first week in October is the time of the Conference of the Bishops here at ELCA Churchwide organization in Chicago. On Monday, October 5, we took the opportunity to reach out to the bishop of the North Carolina Synod and South Carolina Synod, respectively. Fortunately, the impacts on North Carolina were not significant but South Carolina was literally under water.

Leaders of the South Carolina Synod, together with many ELCA congregations in the state, did an enormous job in being CHURCH in times of disaster. They provided emotional and spiritual care to survivors through special worship services and being present among those impacted. A number of churches became relief centers for flood survivors who have experienced enormous losses to receive drinking water and other necessary daily supplies. Our members and pastors also formed teams to deliver relief supplies to impacted communities that were isolated.

We knew from the very beginning the response rto this 1,000 year flood would be a multi-year endeavor. For many survivors, particularly the most disadvantaged residents, the flood added an additional layer of hardship to their lives. and their road to their "new normal" would take a long time.
From the beginning, we have been working very closely with LSC to plan the proper response. Consistent with the long term recovery focus of Lutheran Disaster Response, LSC is currently implementing a disaster case management program with professional disaster case managers serving the most vulnerable population in both Lexington and Richland Counties.
On the anniversary of the event, the South Carolina Synod released a video where they presented LSC with a check for $65,089.88. These dollars were the remaining balance of what was so graciously shared with the synod during the days and weeks right after the 2015 flood event. These funds were given to LSC to be used to meet the needs of the people of South Carolina who have experienced flood damage but find themselves in the gap between insurance coverage and government assistance. Lutheran Disaster Response Coordinator, George Knox of LSC, said, "It feels good to know that if we can't connect someone with the resources they need, we may be able to provide it, and make their recovery just a little bit easier."
The road to recovery will be long for those in South Carolina but, Lutheran Disaster Response will continue to accompany survivors, bringing God's hope, healing and renewal to people whose lives have been disrupted.
---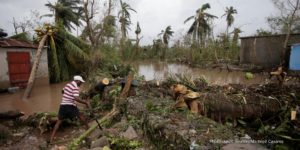 As we commemorate this event, let us pray for the countries and U.S. states that on the path of Hurricane Matthew. The National Hurricane Center calls Matthew "extremely dangerous," and conditions are favorable for it to maintain its strength. In areas of Haiti, Cuba and the Dominican Republic, Hurricane Matthew has left a trail of destruction with landslides, streets flooded and homes flattened. Where the hurricane hit the hardest, Lutheran Disaster Response has local partners and companions ready to respond.
Your support through Lutheran Disaster Response will bring God's hope and healing to those who have been or will be affected by this hurricane. Our response already spans across several countries. Together, we will work with trusted partners and companion churches that know the communities well and are preparing recovery efforts. Although the hurricane has not yet reached the U.S. coast, Lutheran Disaster Response coordinators are collaborating with local community leaders, civic organizations, ecumenical partners and officials to begin planning the proper response.
---
Be a part of the response:
Pray
Please pray for the people who have been affected and are in the path of Hurricane Matthew. May God's healing presence give them peace and hope in their time of need.
Give
Gifts to "Hurricane Matthew" will be used to assist those affected by the hurricane until the response is complete.
Connect: 
Stay connected to the latest events and our response to this and other disasters:
Share this bulletin insert with your congregation.
Sign up to receive Lutheran Disaster Response alerts.
Check the Lutheran Disaster Response blog.