The Lutheran Disaster Response – US Consultation was last week. Our coordinators came in from around the nation to the Lutheran Center, here in Chicago, to do some collective learning and information sharing. During this time, we also made space to share stories of inspiration, of challenge and joy, and of people. In a year where there has been one of the highest concentrations of disasters in decades, this time to share with one another, was a good reminder of why we continue to do this work. It really lifted up the scripture, "Always give yourselves fully to the work of the Lord, because you know that your labor in the Lord is not in vain" (1 Corinthians 15:58).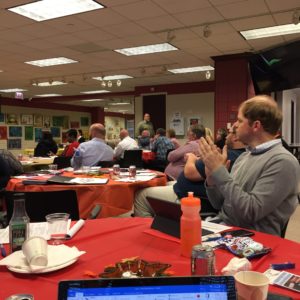 We heard a range of stories from first times in disaster 20 years ago to being newly appointed just a few months ago. We heard stories of Katrina and Sandy. And of the many  times Lutheran Disaster Response, not only showed up, but stayed, even when it felt like everyone else had moved on and forgotten.
We are so thankful to our coordinators. They are the real heroes when disasters strike. They are the people on the ground, in the communities, figuring out what the needs are and making sure that we do everything in our power to meet them.
In wrapping up the consultation, the Reverend Michael Stadie said, "Go in peace and remember the survivors." With the approach of All Saint's Sunday, the Reverend Joe Chu offers this prayer.
God of Life and Hope,

On this day as we remember the saints who have gone on before us, we also remember those whose lives have been cut short because of disasters. And yet, as we lift up living saints everywhere, we also want to raise up those who have given of themselves as volunteers, donors and disaster workers to help relief and pain survivors and help them rebuild their lives. May your Blessings and Life-giving Hope be with all impacted by disasters. Hear us, O God, for your mercy is great.

Amen.
We hope that you all might share this prayer with your families, friends, and congregations this coming Sunday. If you know a survivor of disaster or an individual or group who works or volunteers in disaster, say this prayer for them.
---
Be a part of the response:
Pray
Please pray for the people who have lost loved ones to disaster, specifically those of Hurricane Matthew. May God's healing presence give them peace and hope in their time of need.
Give
Gifts to "Hurricane Matthew" will be used to assist those affected by the hurricane until the response is complete.
Connect: 
Stay connected to the latest events and our response to this and other disasters:
Share this bulletin insert with your congregation.
Sign up to receive Lutheran Disaster Response alerts.
Check the Lutheran Disaster Response blog.