In March, Congress passed a spending bill to fund the government through October 1st, the end of the 2018 fiscal year. While the recently approved budget carried record funding for housing programs and sufficient funds for environmental conservation, many faith leaders remain deeply disappointed by some federal policies that fail to live up to our values in adequately supporting the most vulnerable members of our society.
The federal budget is more than dollars and cents. It reflects our national priorities and promotes the collective common good.  In this last year, Lutherans took action on critical issues in the fed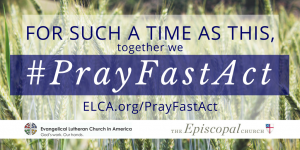 eral budget through the "For Such a Time as This" campaign, petitions and phone calls to their lawmakers, and other action alerts through the ELCA Action center. The Presiding Bishops of the ELCA and the Episcopal Church asked you to lift your voice in support of programs that bring us closer to a just world where all are fed. The consistent impact from people of faith made a major difference in shaping public discussion around our federal budget priorities this year. Thank you for your faithful advocacy.
As Congress and the Administration prepare to move on to the next budget cycle, here are some important outcomes of the top ELCA priorities in the FY18 budget bill:
---
HUNGER:  The omnibus included increases for essential nutrition programs for low-income children and adults. It includes $28 million for the Summer EBT, which is $5 million more than FY17. It also includes $6.175 billion for the Special Supplemental Nutrition for Women, Infants, and Children (WIC) program, sufficient to meet expected need based on current estimates. The Commodity Supplemental Food Program, which distributes food boxes to low-income home-bound seniors, received $238.1 million, an increase of $2 million over FY17; this program was proposed for elimination in President Trump's budget. Mandatory spending for SNAP/food stamps is included at $74 billion to cover all eligible participants. Child Nutrition Programs received $24.2 billion in mandatory funding to fully fund the National School Lunch Program, School Breakfast Program, Summer Food Service Program, and Child and Adult Care Food Program, an increase of $1.5 billion over FY17 levels.
HOUSING:  The spending bill included positive news for many federal housing programs, with some of the highest funding levels most programs have seen in years. Nearly every faith tradition in the U.S. shares a common aim to end homelessness, and investments in proven programs greatly help communities striving to meet those ends. The bill offers increases in housing construction and restoration for low income seniors, incentives for private partners to further affordable housing, and maintains existing vouchers for those of us in the greatest need. High housing costs are still a critical challenge in every state of the U.S., with far too many extremely low income households paying well over half their income on their home. While more must be done, continuing funding for effective housing programs are critical in addressing poverty. Read more about some of the programs that help curb homelessness and housing poverty by clicking here.
ENVIRONMENT:  The omnibus bill provides better than anticipated funding for environmental and energy matters when compared to the Administration's proposed budget. Congress appropriated $35.25 billion for the Departments of Interior, Environment and Related Agencies; and $43.2 billion for DOE. This goes to provide some protection of the environment and addresses some key energy matters.  The omnibus also provides support for the Global Environment Facility (GEF) which addresses such matters as biodiversity and desertification; and the Montreal Protocol Multilateral Fund which helps developing countries phase out ozone depleting substances. While there was no mention of funding for the Intergovernmental Panel on Climate Change (IPCC) and the UN Framework Convention on Climate Change (UNFCCC), these two entities could still receive funding from discretionary funds. You can read more by clicking here.
CAMPAIGN FINANCE:  The final text of the spending bill did not include language to repeal the "Johnson Amendment," which would have allowed religious institutions and nonprofits to endorse political candidates running in an election. Weakening the Johnson Amendment would only have exacerbated the role of money in politics and threatened to politicize houses of worship that are not divided by partisan lines. Over 100 faith organizations, philanthropic charities, and religious denominations (including Lutheran pastors and champions through ELCA Advocacy) have mobilized against it. Interested faith leaders and congregations can still join the petition to help keep churches independent at Faith-Voices.org.
MIGRATION:  Congress failed to pass legislation that provides protection to DACA recipients alongside a budget, the likeliest timing to have reached a compromise. The budget for the Department of Homeland Security (DHS) included funds for border repairs and fencing as well as an increase in mandated detention beds for immigrants (now over 40,000 beds, read more here). While there were no funds for a border wall or more Immigration and Customs Enforcement (ICE) or Customs and Border Patrol (CBP) agents, there was a $6.3 billion increase in DHS funds from last year. Additionally, some U.S. funds to Central America to help address the issues driving people to flee continue to have important human rights conditions. However, this budget also provides funds for military training of forces known to have committed human rights violations. Most concerning this budget provides funds for training to the Honduran military, linked to the oppression of demonstrators after fraudulent elections.
INTERNATIONAL: The International Affairs budget was funded at a topline amount of $54.02 billion, a reduction of $3.3 billion (6%) from FY17 budget. Some programs that focus on poverty reduction received significant reductions, while a few others were maintained at same levels as last year's.
Read more about some of the specific programs that we advocate for in the international affairs budget here.