By Ruth Ivory-Moore
Visiting the beautiful area of Punta Cana, Dominican Republic this past September brought competing emotions of extreme joy and anguish.  The Facts and Information Sheets  found on the internet tell you that "it is the most sought after tourist destination of the Caribbean and known for its beautiful and pristine beaches. The beaches are lined with an alley of dense palm trees."  The resort advertisement describes our destination as being located on  "the luxurious Bávaro Beach, where exquisite white sand, lush vegetation and palm trees sparkle beside crystal clear waters."
Upon reaching the resort, I visually and mentally validate the fact sheets and advertisements. The beauty is unparalleled. You walk into tranquility which is enhanced by soft, serene music as one travels about the resort.  Venturing to the beach, you hear the waves, and feel the ocean breeze as you watch families jumping waves as the tides come in; and you see parasailers soaring through sky taking advantage of the ocean breeze. One marvels at God's creation and how we appear to be living seamlessly within it.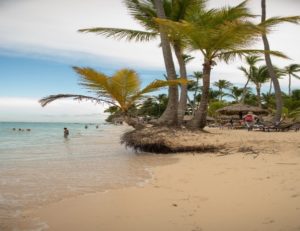 However, you cannot go to a place like this and not, at a minimum, explore the coastline or walk the beach.  As you pass other vacationers and other resorts you continue to be lulled into this sense of near perfection.  If you walk far enough you see, not lush palm trees, but the waves from the ocean beating against the shoreline and against palm trees with exposed roots—a picture of the impact of climate change. (Photo by Chuck Moore (Random Snaps Photography)
There are no adequate words to describe, how this visual image makes one feel.  And coastline erosion is not limited to Caribbean resorts.  The United States Environmental Protection Agency  predicts that "the impacts of climate change are likely to worsen problems that coastal areas already face along the coast of the United States which is home to approximately 25 million people. Confronting existing challenges that affect man-made infrastructure and coastal ecosystems, such as shoreline erosion, coastal flooding, and water pollution, is a concern in many areas." Addressing the stress of climate change require a global effort incorporating new approaches to managing land, water, waste, and ecosystems.
As stewards of creation, we remain hopeful and prayerful.  2016 is likely to be remembered for its significance.  On October 26, 2016, the US State Department climate envoy, Jonathan Pershing noted in an address to the Atlantic Council that the world had made historic progress recently in combating harmful warming. (Photo: Since 1901, global sea levels have risen approximately eight inches)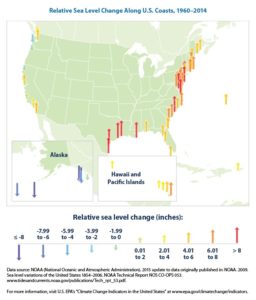 First at least 85 countries have already ratified the Paris Agreement (PA), allowing it to take effect years earlier than expected.  The Paris Agreement (which will go in force on November 4, 2016) sets a long-term goal of keeping postindustrial warming to well below 2 degrees Celsius with efforts toward a 1.5 C limit.1  To reach this goal parties to the PA must submit Nationally Determined Contributions ("NDCs") describing how each nation will reduce greenhouse gas emissions in order to contribute to the global goal.     Second, at the Meeting of the Parties in Kigali, Rwanda, in early October, an amendment to the Montreal Protocol was agreed upon to phase-out hydrofluorocarbons (heat trapping chemicals used in air conditioning and refrigeration). Earlier on October 6 the International Civil Aviation Organization (ICAO) approved the Carbon Offsetting and Reduction Scheme for International Aviation (CORSIA) which is a system for offsetting carbon emissions from international aviation.  This is the first market-based measure to require a global industry to address reductions in greenhouse gas emissions.
Much work remains and COP22 meets in Marrakech, Morocco from November 7 – 18. During which parties to the PA will begin hammering out implementation rules/guidelines.. As a member of the larger faith-based community in Morocco, ELCA Advocacy remains vigilant and diligent in our care and protection of God's creation.  We prayerfully and diligently seek His wisdom and guidance in all actions, and remember that all things are connected. As humans, we are woven into the delicate web of creation. We must stay focused on our responsibility as stewards of all creation. Martin Luther reminds us that "God is in all creatures, even in the smallest flowers."
1         Jean Chemnick, "PARIS AGREEMENT:  Climate envoy sees 'shift' in global response to warming, E&E News, Published: Wednesday, October 26, 2016.