Lutherans are taking action across the country! Below you will find our monthly State Advocacy Newsletter. Share with your friends!
---
ELCA Advocacy Office, Washington, D.C.
The Rev. Amy Reumann, director
ELCA.org/advocacy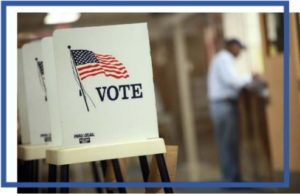 As people of faith, we can play a unique role in this election cycle by empowering every voice in our communities and offering a hope-filled vision of the future for all people. We vote faithfully because we know the importance of lifting our voices together to further God's work in our world.
This Election Day – November 8, 2016…
KNOW WHERE TO VOTE. Research the candidates and any ballot measures that you will be asked to vote on. Also, go prepared with a full understanding of your state's voter ID requirements. Click here, then enter your address for more information!
EQUIP YOURSELF WITH VOTER PROTECTION TOOLS. Make sure you know where to turn for help if any problems occur when casting your ballot. Check out the United Church of Christ's election protection resources.
SHARE YOUR EXPERIENCE AND ENCOURAGE OTHERS TO VOTE. Share photos of your civic engagement experience using #VoteFaithfully and #ELCAvotes!
PRAY TOGETHER WITH YOUR COMMUNITY. Join people of faith across the country and around the world by praying for our local, state, and national governments.
Almighty God, we lift before you all who govern this nation. May those who hold power understand that it is a trust from you to be used, not for personal glory or for profit, but for the service of the people. Drive from us cynicism, selfishness, and corruption; grant in your mercy just and honest government; and give us grace to live together in unity and peace; through Jesus Christ our Lord. Amen. (Lutheran Book of Worship, p.77)
---
DOMESTIC VIOLENCE AWARENESS MONTH & GENDER JUSTICE: In October, ELCA Advocacy encouraged advocates and partners to take the We Will Speak Out pledge to stand in solidarity with those facing gender-based violence. ELCA Advocacy is dedicated to supporting this church's commitment to address the systems that perpetuate gender and racial inequality. To better understand how the ELCA speaks about gender justice and the ways we can address policy issues with a gender-justice lens, help share Lutheran social teachings and the work of the ELCA's Justice for Women team as we prepare future advocacy with gender justice as a major focus. Read more here.
PARIS AGREEMENT UPDATE: The Paris Agreement will go into force on Nov. 4, years earlier than expected when it was adopted in December 2015. Ruth Ivory-Moore, the Environmental Policy Director for ELCA Advocacy, will be present at the United Nations COP 22 meeting that will discuss the next implementation steps for the agreement. Eighty-five countries already have ratified the agreement, and the United States also helped the United Nations reach agreement on other key measures addressing aviation emissions and hydrofluorocarbons coolants. The Paris Agreement sets a long-term goal of keeping post-industrial warming to below 2 degrees Celsius. The success of these negotiations means much work remains.
PRAYER ON EXPANDED WAR: The 2016 ELCA Churchwide Assembly issued a call for congregations to a "time of prayer and communal discernment over the next three years to promote robust examination of the expanded US war efforts since 1990." We are invited to continue to pray for military members, veterans, chaplains and their families, and for peace in God's world. Reach out to your elected officials and candidates to raise this important issue! Read more here.
---
Lutheran Office for World Community, United Nations, New York, N.Y.
Dennis Frado, director
INFORMAL SECURITY COUNCIL MEETING ON ISRAELI SETTLEMENTS: Five elected members of the Security Council held an informal meeting of the council members on Oct. 14, titled "Illegal Israeli Settlements: Obstacles to Peace and the Two-State Solution." Security Council members were briefed by non-governmental experts on the illegal Israeli settlements in the occupied territories.
A representative from B'Tselem spoke of the current demolition of Palestinian homes and presented a concise history of the almost 50 years of Israeli occupation. Professor Dubuisson spoke of the importance of Israeli civil-society mobilization and advocated for economic solutions. Friedman highlighted the deteriorating state of Israeli democracy, demonstrated by an "ugly campaign against courageous Israeli human rights and civil society NGOs." She added that the occupation is a "threat to Israel's security and to Israel's very existence." In response, the U.S. representative said his government adamantly opposed Israeli settlement activity and the retroactive legalization of settlements. Spain advocated for increased humanitarian assistance and development initiatives in Palestine, while France discussed the French initiative for a dual state negotiation, proposing an end-of-year conference for dialogue. The concept note providing a background on Israeli Settlements can be found here.
WORLD FOOD DAY LOOKS AT CHALLENGES OF CLIMATE CHANGE: In celebration of World Food Day, Oct. 16, LOWC program associate Charlotte Mildenberger attended a discussion titled, "Climate is changing. Food and agriculture must too." Climate change poses immense challenges to the world's 500 million smallholder farms. In that regard, empowering rural women and girls is vital.
THE TRANSFORMATIVE POWER OF EARLY CHILDHOOD DEVELOPMENT ACTIONS IN MIGRATION AND REFUGEE SITUATIONS: On Sept. 29, Charlotte Mildenberger attended an event titled, "The Transformative Power of Early Childhood Development Actions in Migration and Refugee Situations" in New York. Information was shared based on a neuroscience symposium organized by UNICEF on April 16, 2014.  Three panelists discussing the findings of 16 leading international scientists from different fields of neuroscience took part in the symposium.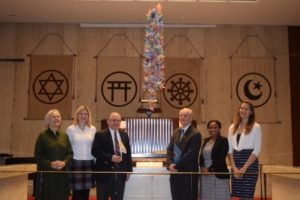 LUTHERAN-CATHOLIC COMMON PRAYER: On Oct. 27, the Lutheran Office of World Community and Caritas Internationalis in New York co-hosted a service of Common Prayer. The event was in advance of the joint commemoration of the Reformation in Lund, Sweden, on Oct. 31 and reflected on the progress made in 50 years of international Catholic-Lutheran dialogue. The service was in the chapel of the Church Center for the United Nations, and many ecumenical advocacy partners attended. Staff from LOWC and Caritas Internationalis read excerpts from the Common Prayer: "From Conflict to Communion: Lutheran-Catholic Common Commemoration of the Reformation in 2017." The service was accompanied by ecumenical musical worship and the lighting of candles for the five imperatives outlined in "From Conflict to Communion."
---
California
Mark Carlson, Lutheran Office of Public Policy
NOV. 8 ELECTION: Ballot propositions dominate the attention of LOPP-CA through Election Day; Policy Council priorities and recommendations, including the death penalty, sentencing reform and a single-use plastic bag ban, are at loppca.org.
EVENTS: LOPP-CA Director Mark Carlson attended the Sierra Pacific Synod professional leadership conference with an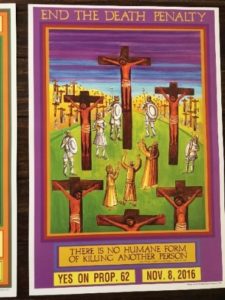 election information table and led a small break-out group on ballot measures. He attended the installation of Pacifica Synod Bishop Andy Taylor, followed by the Theoasis conference, which also included Southwest California Synod leaders. Mark tabled and led election workshops at the Women of the ELCA convention of the Southwest California Synod and will attend the Pacifica Women of the ELCA convention. Following an LOPP-CA Policy Council meeting in Glendale, Mark and ELCA Domestic Policy Director John Johnson attended the New City Parish gala and worshiped at St. Mark's Lutheran in Los Angeles, where Mark did an election forum.
CARE FOR CREATION: Mark helped plan and participated in a Lutherans Restoring Creation statewide retreat for about a dozen people at Luther Glen Camp and farm.  The event concluded with an environmental justice-focused visit, initiated by LOPP-CA, to Central City Lutheran Mission in San Bernardino. Mark was a panelist with an Environmental Protection Agency lawyer, and Mark Richardson, president and dean of the Church Divinity School of the Pacific, for an event that included the blessing of their solar panels. The former presiding bishop of The Episcopal Church, Katharine Jefferts Schori, and theologian Cynthia Moe-Lobeda keynoted.
NOT IN OUR TOWN: On his own time while in Lindsborg, Kan., for the memorial service for his aunt at Messiah Lutheran Church, Mark showed the film "Not in Our Town – When Hate Happens Here," the first community event in response to the racist threats to Bethany College President Will Jones, his family and Bethany students.
---
Colorado
Peter Severson, Lutheran Advocacy Ministry – Colorado
IN THE NEWS: LAM-CO Director Peter Severson recently moderated a debate about Colorado's Amendment 69, hosted by Holy Trinity Lutheran Church, Littleton. Speakers both for and against the measure spoke in a debate format and took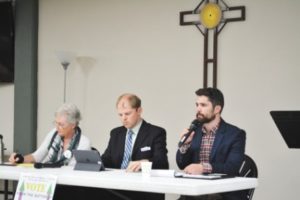 questions from an audience of nearly 50 people. Amendment 69, also known as ColoradoCare, is a measure that proposes to establish a nearly-universal state health insurance system to cover all residents of Colorado. The debate was covered by The Lakewood Sentinel newspaper. Pictured: Peter Severson (center) moderated as Freddie Gaudet (right) spoke against Amendment 69, while Dr. Ellen Lewis (left) spoke on the pro side. [Photo: Kyle Harding, The Lakewood Sentinel]
BALLOT MEASURE VIDEOS: Students at the University of Colorado-Boulder Lutheran Campus Ministry joined LAM-CO Director Peter Severson to make a series of videos on Colorado's ballot measures. Check them out at The Magic November 8th Ball.
MINISTRY VISITS: The LAM-CO show has been on the road for the past several weeks, teaching and engaging voters about ballot measures. Visits include all three Lutheran campus ministries in Colorado (CSU, UNC, CU-Boulder) as well as churches in Aurora and Wheat Ridge.
ROCKY MOUNTAIN SYNOD ADVOCACY TRAINING: On Oct. 8, Lutheran Advocacy staff from Colorado, New Mexico and Washington, D.C., hosted a day of advocacy training for congregational leaders from seven congregations. The purpose of the day was equipping and training leaders to develop advocacy teams in their local communities.
---
Minnesota
Tammy Walhof, Lutheran Advocacy – Minnesota
CLEAN ENERGY: Lutheran Advocacy-MN Director Tammy Walhof became co-convener of the Minnesota Environmental Partnership's Energy Cluster this fall. The cluster is considering more than a dozen legislative options for 2017, and Tammy is helping guide an open and participatory decision-making process. She also participated in RE-AMP Midwest area meetings for coal, clean energy and the power sector and continues to learn more about the workings of the electric grid in preparation for continued work in energy issues.
IMMIGRATION: Issues around race and immigration continue to plague parts of Minnesota. This has become more difficult to address and combat since the St. Cloud mall stabbings by a Somali immigrant. Current political rhetoric only inflames the situation further. Although immigration has been a key issue for Lutheran Advocacy-MN in 2016, new approaches to immigration, including and especially Muslim immigration, will be needed for 2017.
ORGANIZATION BUILDING: Several excellent networking and presentation opportunities have arisen for Lutheran Advocacy-MN this fall, through separate events with pastors of the Northeastern Minnesota Synod and Saint Paul Area Synod, as well as with Minnesota congregations.
WANTED FOR SPRING SEMESTER 2017: This spring, I'd like two interns to work with creation care and affordable housing. If anyone is interested, please have them contact me at tammy@lcppm.org.
---
New Mexico
Ruth Hoffman, Lutheran Advocacy Ministry – New Mexico
The 2016 special session of the New Mexico Legislature concluded on Oct. 6. A special session was needed to address the severe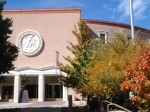 revenue crisis facing our state. The last two fiscal years were underfunded by at least $600 million and the state constitution mandates that state budgets be balanced. Unfortunately, the governor also included several crime bills on her agenda for the session. Included among those crime bills is one to reinstate the death penalty. Several bills that partly addressed the budget were passed and signed but the regular session in January will continue to face a severe budget deficit. Meanwhile, all the crime bills failed to pass, including reinstatement of the death penalty.
LAM-NM Director Ruth Hoffman testified before a joint meeting of the interim Legislative Health and Human Services Committee and the Courts, Corrections and Justice Committee. The committees heard an extensive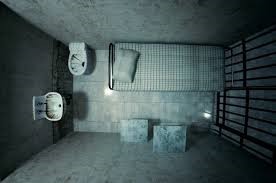 presentation regarding solitary confinement, and in her testimony, Ruth urged the committees to endorse legislation to prohibit the use of solitary confinement for juveniles and the severely mentally ill and to limit its use for the general population of prisons and jails.
---
Ohio
Nick Bates, The Faith Coalition for the Common Good
Ohio continues to have the true swing-state experience with local, state and national candidates crisscrossing the state. During the push to persuade and turn out voters, the Hunger Network in Ohio continues to address the problems of those who are hungry and struggling to get by. Director Nick Bates visited two "Potlucks to End World Hunger" events on World Food Day (Oct. 16) to discuss the importance of statehouse advocacy. The following weekend, we were honored to be one of the beneficiaries of Clinton Heights Lutheran Church's bi-annual chili and candidates night free-will offering. The other half went to support Lutheran Social Services of Central Ohio.
As the campaign season ends, we have the obligation to help those elected to lead. On Nov. 17, The Hunger Network will host an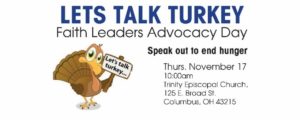 advocacy day at the Ohio Statehouse. While everyone else wants to talk about the holidays, we want to "TALK TURKEY" about those who are hungry in Ohio. Please join us by registering here.
For more information about advocacy work in Ohio, visit hungernetohio.org.
---
Pennsylvania
Tracey DePasquale, Lutheran Advocacy – Pennsylvania                             
As the General Assembly wrapped up its voting session, the hoped-for vote on Safe Harbor stalled, but advocates can take consolation in other items that did not become law.
SAFE HARBOR: SB851 would have redirected child sex-trafficking victims away from the criminal justice system and toward the help they need.
PAYDAY LENDING: Sponsors called SB1379 a financial services credit ladder, but it was another high-cost borrowing trap. Introduced with just days left in the session, LAMPa and others responded with letters to lawmakers.
ANTI-SANCTUARY LEGISLATION: HB 1885 would have punished municipalities for refusing to honor requests by Immigration and Customs Enforcement to detain undocumented immigrants. LAMPa advocates urged defeat.
REGULATORY REVIEW ACT AMENDMENT: SB 562, which would have amended the Regulatory Review Act to allow the General Assembly to delay any regulation promulgated by the executive branch, was vetoed by Gov. Tom Wolf.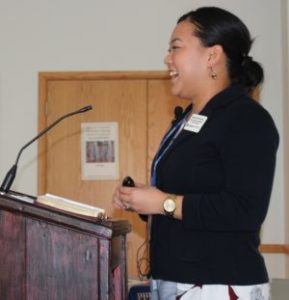 In other items, LAMPa staff presented on hunger and climate change at a SWPA Synod Hunger Gathering led by Mikka McCracken; met with Human Services Secretary Ted Dallas about detention of immigrant mothers and children at the Berks Residential Facility; met with leaders of Allegheny Lutheran Social Ministries in Altoona about strengthening our ministry together; circulated a letter among ministries urging Gov. Wolf to include appropriate support for anti-hunger programs in his 2017-2018 budget; attended the Region 8 Networks for Mission Event; and attended the Pennsylvania Interfaith Power & Light annual conference.
---
Texas
Samuel D. Brannon, Texas Impact
Six years after the passage of the Affordable Care Act, uninsured rates across the U.S. have dropped significantly, but Texas leads the nation in both the number of and percent of uninsured residents. Nearly a million Texans are caught in the "coverage gap" – making too little to qualify for federal subsidies or too much to qualify for Medicaid.
Like many other people of faith, Lutherans are concerned about the politicization and polarization of something as important as healthcare, which is central to our identity as Christians. After all, our Savior was a healer. We want to engage in meaningful, nonpartisan discussion about the future of healthcare in our state.
On Nov. 18-20 (Christ the King Sunday), Texas Impact is coordinating with scores of faith communities across the st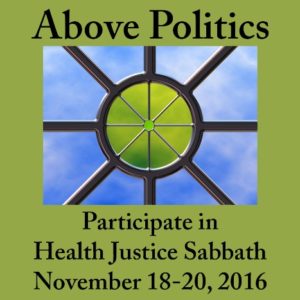 ate to hold a Health Justice Sabbath. During the event, congregations will join in prayer, study, and action for the sake of a better conversation around health care that is above politics.
Everyone is encouraged to do what they think appropriate for their context. For instance, the Rev. Franz Schemmel of Messiah Lutheran in Weatherford plans to hold an adult forum after Sunday worship. The Rev.  Paul Bailie of Iglesia Luterana San Lucas in Eagle Pass will conduct a service of healing, after which the congregation will write letters of support to their state legislator and senator.
All Texas congregations are encouraged to take part in the Health Justice Sabbath. Please go to abovepoliticstx.org for information and resources to make your congregation's event both meaningful and impactful.
---
Virginia
Kim Bobo, Virginia Interfaith Center for Public Policy
The Virginia Interfaith Center for Public Policy (VICPP) continues to target certain legislative districts where senators or delegates currently oppose expanding healthcare coverage by meeting with constituents to discuss how the lawmaker might be persuaded. Meanwhile, several Virginia cities have passed resolutions calling on the General Assembly to accept federal dollars available for Medicaid expansion, something that is part of the VICPP toolbox.
If you want to get a great primer on healthcare issues in Virginia, particularly around the coverage gap, watch VICPP Healthcare Program Director Karen Cameron talk with Delegate Richard "Dick" Plum from Virginia's 36th District. This will give you everything you need to know and shows how citizen action can influence positive change in Virginia's General Assembly.
A group of citizens assembled in front of Virginia Senate Majority Leader Tommy Norment's office in Williamsburg on Oct. 17 for a prayer vigil to call on Norment and the rest of the General Assembly to hear the prayers for Virginians trapped in the healthcare coverage gap. A statement released to the media and posted on the VICPP website said the reason for the gathering was "because Norment has refused to participate in open forums or in personal conversations about affordable and accessible healthcare for all Virginians, about 30 frustrated people from diverse religious, racial and ethnic backgrounds brought the message to him with placards and offering testimony of the impact of not having health insurance." The group prayed for Norment and the rest of the Legislature.
VICPP is also planning to have a "witness at the Capitol" team of retired clergy to monitor and meet with legislators during the General Assembly session in January.
---
Washington
Paul Benz, Faith Action Network
ELECTION SEASON: Faith Action Network (FAN) is proud to have hosted and organized three candidate forums in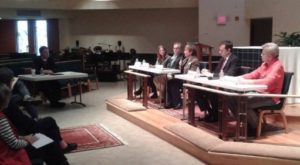 politically strategic state legislative district races and two forums on the five statewide initiatives on which FAN took positions (minimum wage increase–yes; gun violence reduction–yes; overturn Citizens United–yes; campaign finance reform–yes; carbon tax with tax offset–neutral). Alongside the initiative forums, FAN produced an initiative guide as well as a civility statement from our Interfaith Leaders Council for those running for office.
CLUSTER GATHERINGS: FAN has 16 geographic clusters of faith communities across our state that convene once a year in the fall. The purpose is to build relations between the FAN faith communities in that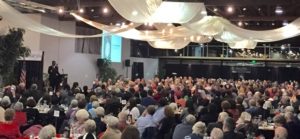 cluster and deepen the effectiveness of FAN's work.  The conversation has two parts: updates on FAN's programmatic work and updates on the advocacy work that the faith communities are doing. 
ANNUAL DINNER: FAN's big end-of-the-year fundraising dinner is Nov. 20. Our keynote speaker will be a local rabbi: Ruth Zlotnick from Temple Beth Am in Seattle. FAN's major donor has upped his match from last year! Our attendance goal is 450. If you can't come but would like to support the work of FAN, you can participate by donating online at fanwa.org.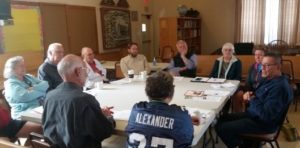 INTERIM MEETINGS WITH ELECTED OFFICIALS: FAN has been busy doing its annual interim meetings with state legislators, members of Congress, and city/county council members. Advocates by district have been attending; as of this week we've completed 34 meetings.
---
Wisconsin
Cindy Crane, Lutheran Office for Public Policy in Wisconsin
ECONOMIC JUSTICE AND ELCAVOTES:  LOPPW has developed a new presentation based largely on the book "Forgotten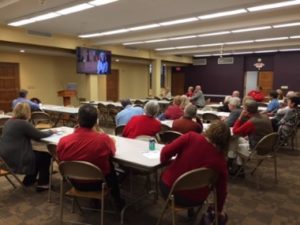 Luther – Reclaiming the Social-Economic Dimension of the Reformation," edited by Carter Lindberg and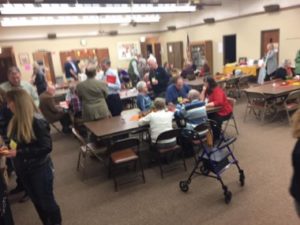 Paul Wee; materials from ELCAvotes; and realities about poverty in Wisconsin. LOPPW's director led part of the presentation when co-leading a workshop on hunger with the Rev. Ellie Russey at a Northern Great Lakes Synod event. The director led the full presentation at St. Matthew's Lutheran Church in the Greater Milwaukee Synod on Reformation Sunday.
CARE FOR GOD'S CREATION:   The LOPPW/South-Central Synod Care for God's Creation team has a new presentation, the science part of which was developed by one of our team members, meteorologist Bob Lindmier. Bob led a presentation with the new PowerPoint at a congregation on Reformation Sunday.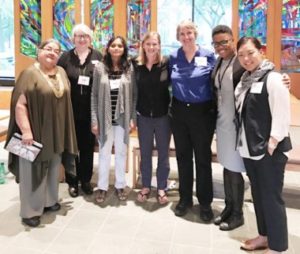 LUTHERAN SCHOOL OF THEOLOGY AT CHICAGO:  LOPPW's director spoke on a panel about her journey as a woman and lesbian in leadership and led a workshop on anti-human trafficking at the Lutheran School of Theology at Chicago's Women's Leadership Conference.
ADVOCACY DAY:  LOPPW is working with several interfaith groups to hone priorities for Advocacy Day in 2017.