Following are updates shared from submissions of the Lutheran Office for World Community and state public policy offices (sppos) in the ELCA Advocacy Network this month. Full list and map of sppos available.
U.N. | Minnesota | Ohio | Texas | Washington | Wisconsin
---
U.N.
Lutheran Office for World Community, United Nations, New York, N.Y. https://www.elca.org/lowc – Dennis Frado, Director
The 76th session of the UN General Assembly (UNGA 76) will open on Tuesday, 14 September 2021, followed by the high-level General Debate from 21-27 September. The President-elect of the 76th session is H.E. Abdulla Shahid, Foreign Minister of the Maldives. Once again, the UN is taking extraordinary measures to both meet but take pre-cautions in view of the COVID-19 pandemic. Heads of state and government are being encouraged to send video-taped messages for the general debate and the US Ambassador H.E. Linda Thomas-Greenfield took the usual step of saying that sending videos rather than attending personally "… would help prevent it [the General Debate] 'from being a super-spreader event'".
Alongside the General Debate two high-level meetings are planned:
A third High-level meeting, on the Global Plan of Action on Trafficking in Persons, will occur on Monday, 22 November and Tuesday, 23 November 2021.
On August 2nd, the UN General Assembly voted unanimously to create the United Nations Permanent Forum of People of African Descent. The Forum, a ten-member advisory body, will work with the UN Human Rights Council and " … contribute to the elaboration of a UN declaration – a 'first step towards a legally binding instrument' on the promotion and full respect of the rights of people of African descent."
"The move [by the General Assembly] comes just days after the Human Rights Council established a panel of experts to investigate systemic racism in policing against people of African descent, and on the heels of a report by the Office of the UN High Commissioner for Human Rights (OHCHR), prompted by the police killing of George Floyd in 2020." The first meeting of the Forum will take place in 2022.
---
Minnesota
Lutheran Advocacy – Minnesota (LAMN) http://www.lutheranadvocacymn.org/– Tammy Walhof, Director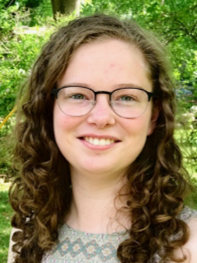 Staffing Addition: We are excited to welcome Rachel Wyffels as our new ELCA Hunger Advocacy Fellow! Wyffels is a recent graduate of St. Olaf College, where she majored in religion and music, and served as president of the Student Congregation for two years. Hunger Advocacy Fellows are made possible through ELCA World Hunger and ELCA Advocacy.
MN Senate Leadership Changes: Both Sen. Paul Gazelka (R), Senate Majority Leader, and Sen. Susan Kent (DFL), Senate Minority Leader, resigned their leadership roles in the Minn. state senate. Sen. Kent stepped down to prioritize family. Sen. Melisa López Franzen (DFL) was elected as the new minority leader (and the first person of color to serve as senate minority leader). Sen. Jeremy Miller (R) was elected as the new majority leader to replace Sen. Gazelka, who announced his candidacy for governor. Sen. Gazelka joins a crowded Republican field, including Sen. Michelle Benson, Sen. Scott Jensen, Mayor Mike Murphy, Dr. Neil Shah, and Mike Marti. The Republican nominee will run against incumbent Gov. Tim Walz (DFL), who is expected to seek a second term.
MN Synod EcoFaith Retreat: We were pleased to join leaders from the Northeastern Minnesota (NEMN) Synod EcoFaith Network and other synod creation care efforts from across the state for a leadership retreat at Camp Hiawatha. It focused on addressing needs of congregations/church leaders in integrating creation care, and action addressing the climate crisis. We encourage you to follow Green Blades Rising to keep updated on the activities of the NEMN Synod EcoFaith Network.
---
As redistricting debates heats up, we are grateful for faith leaders who offer testimony to make sure our legislative districts represent our communities. HNO director Nick Bates offered testimony on Sept. 14 in Columbus about the divisions of the Hilltop community. Similarly, the Rev. Seth Bridger offered testimony in Cleveland the evening before.
Death Penalty: Please join us on Oct. 11 at 7 p.m. for a conversation about the death penalty in Ohio with faith and legislative leaders. Register online for this virtual event. https://us02web.zoom.us/meeting/register/tZMofu-przMoGdTMqvlphegAhpQ4YTf7dBza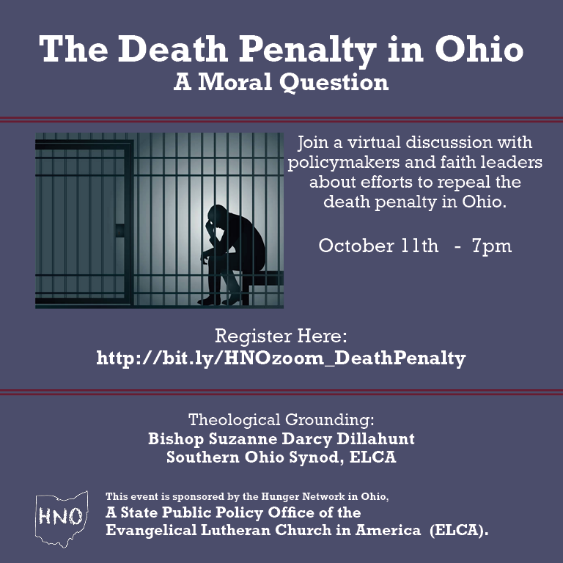 ---
Texas
Texas Impact https://texasimpact.org/ – Scott Atnip, Outreach Director
The Texas Legislature completed their second called special session with a third scheduled to begin Sept. 20. Following a "Let My People Vote" rally at the Capitol featuring Bishop Sue Briner of the Southwestern Texas Synod and about 500 Texans of faith rallying for voting rights, Texas Impact continued to equip and mobilize Texans of faith around priority legislation in the second special session. The Legislature passed several bills monitored by Texans of faith, including on voter suppression, Critical Race Theory, border militarization, and more. The third special session will focus on redistricting, appropriating American Rescue Plan Act funds and bills, and discriminating against transgender children.
The work continues to equip and mobilize Texans of faith to help them understand what is happening in their Texas Legislature through ongoing programming, including the Weekly Witness podcast, Rapid Response Team, and Legislative Engagement Groups. Special opportunities are planned for September, including a Redistricting 101 webinar and a briefing with state budget experts on the process for appropriating Texas' $16M in federal ARPA funds.
Finally, the Texas Impact team was excited to welcome Isabelle "Isa" Peterson as a Hunger Advocacy Fellow for the year! Peterson is a recent graduate of UT-Austin, and a member of Zion Lutheran Church in San Antonio.
---
Washington
Faith Action Network https://www.fanwa.org/ – Paul Benz and Elise DeGooyer, Co-Directors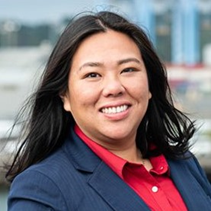 New Policy Engagement Director – Kristin Ang! We are delighted to announce our new Policy Engagement Director, Kristin Ang, who begins work with FAN on Oct.4. Ang brings policy leadership experience as a Port Commissioner for Tacoma, along with experiences as an immigrant, Filipina American, lawyer, and collaborator in interfaith circles in Pierce County. She will bring these gifts to FAN along with a spiritual grounding in compassion and justice. FAN advocates will get to meet Ang during the fall months as she learns about our network during cluster gatherings, as well as our coalition partners, alongside FAN staff.
Advocating for a Just Budget Resolution Package The House and Senate have passed the budget resolution which is the framework for the $3.5T social infrastructure bill/Build Back Better. Now the hard work begins in committees of jurisdiction to start building this enormous funding proposal. It is facing
opposition by big business and corporations, coordinated by the US Chamber of Commerce, so FAN is urging our network to advocate for critical pieces of this package, including rental assistance, housing, the Expanded Child Tax Credit, and the Earned Income Tax Credit. See the letter FAN signed onto with national partners here: https://airtable.com/shrFCsyJdU5poVTtm.
Cluster Meetings FAN hosts Fall Cluster Meetings as a way to gather with advocates in their local areas, learn about the issues that matter in their region, and build momentum for our work together. Most Clusters will be hosted online due to COVID concerns.
---
Wisconsin
Lutheran Office for Public Policy in Wisconsin (LOPPW) https://www.loppw.org/ – Cindy Crane, Director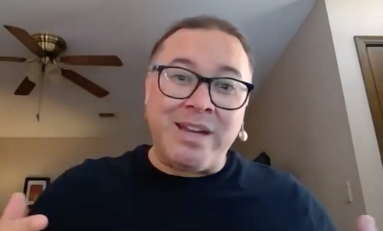 Wednesday Noon Live interview with Vance Blackfox, Desk Director for American Indian Alaska Native Tribal Nations.
Blackfox included important info on what congregations can do.
Medicaid and the Child Tax Credit
LOPPW interviewed Researcher and Health Policy Programs Director Donna Friedsam of the Institute for Research on Poverty at UW-Madison to explore both sides of the debate on Medicaid expansion in Wisconsin.
We encouraged members to contact their U.S. Representative and U.S. Senators while they were back in district. We focused the Medicaid Saves Lives Act BadgerCare and expanding the Child Tax Credit beyond 2021.
We also are advocating to make the 2021 Child Tax Credit known to people who qualify for the refundable credit but haven't received it yet and need to fill out a non-filer form. People can use posters and handouts we created from our website.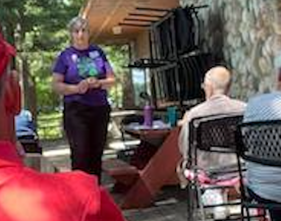 Northwest Synod of Wisconsin Biblical Justice Forum: LOPPW's director led a workshop on lifting our public voices rooted in our Christian and Lutheran tradition at Luther Park in Chetek.
Juvenile Justice
Our Raise the Age Coalition, with a focus on returning 17-year-old youth to the juvenile justice system, interviewed a new intern to continue some of the work that our former Hunger Advocacy Fellow, Kyle Minden, did. Keiko Engel, a senior in social work at UW-Madison, was hired by the Sentencing Project. Her direct supervisor is a coalition member from the Wisconsin Association of Family & Children's Agencies. LOPPW is also helping Engel to get on board.