United Nations | California | Delaware | Florida | Minnesota | New Mexico | Pennsylvania | Southeastern Synod | Washington | Wisconsin
---
Lutheran Office for World Community, United Nations, New York, N.Y.
Dennis Frado, director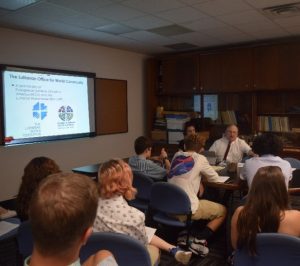 WELCOMING ECUMENICAL CAMPERS: On August 1, 2019, the Lutheran Office for World Community (LOWC) delivered a presentation to a group of youth from Cross Roads 'S.E.E.K in the City' summer camp program, to inform the campers of LOWC and its work with the United Nations. Based in New Jersey, Cross Roads is a joint ecumenical retreat center and camp of the Episcopal Diocese of Newark and the New Jersey Synod of the ELCA. The youth were actively engaged throughout and asked a range of questions including the role of youth within the United Nations.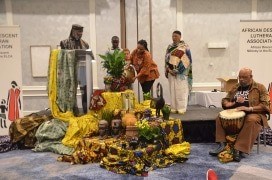 AFRICAN DESCENT LUTHERAN ASSOCIATION 2019: In early August, Jackie Maddox ( ELCA Advocacy Office, Washington D.C) and  Christine Mangale (LOWC), attended the African Descent Lutheran Association's (ADLA) 2019 Biennial Assembly, held in Milwaukee. Assembly highlights included the celebration of the 40th Anniversary of the ordination of black women in the Lutheran Church, a discussion on the gift of Human Sexuality because all Black Lives Matter, and the historic commemoration of the 400th Anniversary of the Transatlantic Slave Trade. In response to the Evangelical Lutheran Church of America's (ELCA) Declaration to People of African Descent (adopted June 27, 2019 by the Church Council), Reverend Lamont Wells,  President of ADLA, accepted the apology (viewed here), stating 'we the people of African descent of the ELCA can receive this apology as a divine mark of repentance that serves as a catalyst for change …This apology is received because Jesus has shown us the way towards reconciliation.'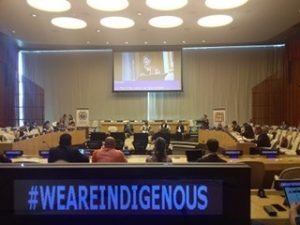 2019 INTERNATIONAL DAY OF THE WORLD'S INDIGENOUS PEOPLES: The International Day of the World's Indigenous Peoples was commemorated on August 9 at the United Nations. The event focused on this year's theme of Indigenous Languages and its preservation and revitalization at both the national and international level, in order to protect the unique cultures, heritage and identities of the indigenous peoples they sustain.
According to the United Nations, although indigenous peoples only make up 5% of the world's population, 'they speak 60% of the worlds' languages', with estimates suggesting that 'more than half of the world's languages will become extinct by 2100.' The United Nations Department of Economic and Social Affairs' Indigenous Peoples and Development Branch held a high-level segment, a panel discussion with four indigenous speakers, followed by an interactive segment focused on creative initiatives that promote the use of indigenous languages.
Recommendations for charting a constructive pathway forward included committing to a Decade of Indigenous Languages, creating further legislation that includes incorporating indigenous languages into school curriculum, and stronger dialogue and partnerships.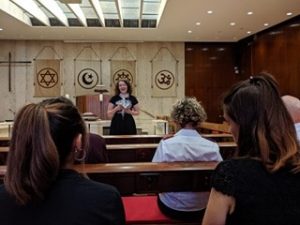 FAREWELL TO REV. REBEKKA PÖHLMANN: This month, the Lutheran Office for World Community was sad to say farewell to Reverend Rebekka Pöhlmann, at the conclusion of her one-year internship with the office. While working for LOWC, Rebekka has been actively engaged with issues related to Israel/ Palestine, interreligious and ecumenical dialogue, gender equality and the intersection of gender and security questions. Rebekka has taken on the role of Senior Pastor for a congregation in Ludwigstadt, Germany. We wish her all the best!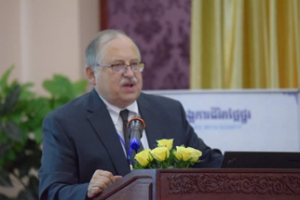 MIGRATION AND HUMAN TRAFFICKING CONFERENCE: Dennis Frado, Director of LOWC, traveled to Phnom Penh, Cambodia, to deliver a presentation on how the UN is addressing the issue of human trafficking. The International Conference on Migration and the Human Trafficking Crisis in Asia, held August 21-23, was convened by ELCA Global Mission and local Cambodian partner Life With Dignity. Four of the 17 Sustainable Development Goals related to the prevention of human trafficking were shared: SDG 5 (Gender Equality, Target 5.2), SDG 8 (Decent Work and Economic Growth, Target 8.7), SDG 10 (Reduce Inequality, Target 10.7) and SDG 16 (Peace, Justice and Strong Institutions, Target 16.2), alongside an extensive list of resources, protocols and initiatives. Dennis also highlighted the Global Compact on Migration, adopted by the UN in December 2018.  LOWC had monitored the negotiations leading to the Compact's adoption.
---
California
Regina Q. Banks, Lutheran Office of Public Policy- California (LOPP-CA) lutheranpublicpolicyca.org
LEGISLATURE BACK IN SESSION: Fiscal committees had until August 30 to hear and pass the remaining fiscal bills to the floors of the respective houses. The remaining two weeks of session, until September 13, are reserved for floor sessions. This first year of a two-year session adjourns at midnight on Friday, September 13, 2019. Please look out for time-sensitive alerts about ways to support our advocacy as measures move from the floor of the legislature to the governor's desk for signature.
LOBBY DAY PARTICIPATION: LOPP-CA has had an exciting month supporting our ministry partners and advocacy allies in their lobby days and advocacy actions. Just a couple of highlights:
On Wednesday, August 21st we participated in Building The California Dream Alliance (BCDA) lobby day. BCDA unites more than 60 organizations in a broad progressive coalition in an ambitious agenda to uplift families and expand opportunities for all Californians. We worked on stronger protections for striking and locked out workers, more robust safeguards for student borrowers, greater securities for our undocumented siblings and much more. Go to http://cadreambuilder.org to find out more about BCDA and our participation.
California Interfaith Power and Light (CIPL) envisions a stable climate where humans live in right and just relationship, interconnected with a healthy, thriving, natural world. They work toward this goal through education, advocacy, direct action and conservation. Their lobby day was Wednesday, August 28th and together we advocated for "Complete Streets" (safe use of our community streets for walkers, bikers, public transportation, and private vehicles), Smog Checks for Big Rigs, the protection of our state lands from would-be fossil fuel extractors, and plastics use abatement. LOPP-CA would be glad to help you register to become an IPL congregation.
PARTNERSHIP WITH FARMING HOPE: LOPP-CA is excited to announce collaboration with Farming Hope, a non-profit community organization providing transitional employment and training in the culinary industry to unhoused and low-income people in our community. They are a recipient of an ELCA World Hunger grant and Executive Director Jamie Stark was well received at the hunger leaders gathering this summer in Minneapolis, Minn. Initial discussions were had over brunch on August 24th with representatives of Lutheran Social Services of Northern California, ELCA World Hunger and the office of Bishop Mark Holmerud, ELCA Sierra Pacific Synod. To find out more about Farming Hope visit them at https://farminghope.org and have a bite at their commercial kitchen site Manny's at 3092 16th Street in San Francisco.
MISSION SUPPORT LETTER: Be on the lookout for a letter going to congregations asking for additional mission support. The work we do here at LOPP-CA is dependent upon you and your congregation's generosity. Please consider blessing our ministry with an additional gift today. Instructions can be found in the mail, or at our website: lutheranpublicpolicyca.org.
CONGREGATION VISIT THANK YOU:  A sincere thank you goes out to congregations that have welcomed LOPP-CA into their Sunday worship experiences recently. They were truly blessed times in the Lord, and we look forward to coming back soon. Specifically, Faith Lutheran Church in Marysville, Calif.
---
Delaware
Gordon Simmons, Public Policy Officer, Delaware Lutheran Office for Public Policy
The Delaware Lutheran Office for Public Policy was begun in the mid 1980's but discontinued in 2012. In 2019, we went back into business!  I've been serving as the (volunteer) Public Policy Officer.  We have a Policy Council composed of members of seven of the 13 congregations in the state. I spent a good deal of my time this year building relationships in the Legislature, holding one-on-ones with 60 of the 62 senators and representatives. I also preached and led forums in 12 of the 13 congregations. We had a "Lutheran Day at the Capitol."  For 2020, we have identified two issues for concentrated work: the environment (especially trying to raise the current 25% by 2025 renewable energy goal) and education (especially supporting the state's efforts to reorganize and improve the public schools in Wilmington).
---
Florida
Russell Meyer , Florida Faith Advocacy Office/Florida Council of Churches  floridachurches.org
Now that Dorian passed by the state, Floridians are turning out to support the Bahamas. Category 5 hurricanes blow cities to smithereens. There have been 4 in 5 years. More frequent and more intense weather comes from climate change. Now's the time to talk about climate in your congregation. The Florida Legislature begins committee weeks this month in preparation for the January-March session. Expect more vouchers for private schools and disaster resiliency conversation. The hope for real criminal justice reform is high, and the fear of more adversity for immigrants is real. Healthcare and food assistance are still under attack.
Affordable housing is still being sunk by big development. Public schools are under open attack with the state education commissioner pushing to reduce them by two-thirds. The synod has combined its advocacy and ecumenical/interreligious teams, recognizing that our commitment to religious engagement is critical to our public advocacy for the common good, and vice versa. Sanctuary church is attracting great attention; contact us if you're looking for a speaker.
The State Clergy Convening is Sept. 12-13 in Orlando to delve into advocacy issues.
A retreat with Alexia Salvatierra on faith-rooted organizing is Oct. 13-14 in Leesburg.
Check floridachurches.org for details. Or advocacy@floridachurches.org. @floridachurches FB | TW

---
Minnesota
Tammy Walhof, Lutheran Advocacy- Minnesota (LA-MN)               lutheranadvocacymn.org
FACEBOOK FOCI:
Friday Green Tips – Several months ago, we began posting green tips every Friday. Check them out and let us know if you have ideas you would like us to share.
Migrant Mondays – We recently started a series on Mondays related to immigration. The first post featured a beautiful reflection on sanctuary, protection, & shelter from Bishop Jon Anderson. The series will include reflections, action alerts, & immigration updates from partners.
Clean Energy & Climate – Throughout the weeks that the world focuses on climate action we'll have several posts that relate to the debate, including local events and action options.
HOMES FOR ALL: Last fall, the coalition's Policy Team (where we serve) reviewed 44 proposals, compared them with Governor's Housing Task Force recommendations, and carefully selected proposals bundled into legislation carried by legislative housing champions. It was a bold but necessary agenda! Although housing got more attention than any other issue in final negotiations last session (thanks to advocates like you helping raise the profile) most of that agenda was left undone! Now we're in the processes of discerning what to emphasize of the remaining agenda, and whether there are other prescient issues that should be added. Bonding to increase the affordable supply will definitely be a priority, so you should raise that issue this fall with your legislators!
CLEAN ENERGY: We are in deep discussions with our partners regarding how much to address in legislation in the next session, versus stressing significant education with the public and legislators to aim for wins in 2021.
---
New Mexico
Ruth Hoffman, Lutheran Advocacy Ministry—New Mexico (LA-MN)   lutheranadvocacynm.org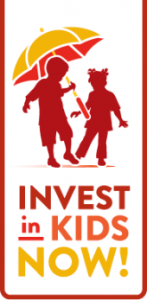 EARLY CHILDHOOD EDUCATION MAKES A DIFFERENCE: LAM-NM has been an active part of a large state-wide coalition which has been advocating to increase the availability of quality early childhood education programs throughout New Mexico. Quality early childhood education includes home visiting, pre-kindergarten programs, as well as affordable childcare assistance. Such programs have been proven to make a very positive impact on the success of children and families.
The Invest in Kids Now coalition supports the adoption of an amendment to the state constitution to create a stable funding stream for early childhood education from our state's Land Grant Permanent Fund. Members of the coalition, including LAM-NM director, Ruth Hoffman, attended and monitored an interim joint meeting of the Legislative Finance Committee and the Revenue Stabilization and Tax Policy Committee on August 29.
---
Pennsylvania
Tracey DePasquale, Lutheran Advocacy Ministry–Pennsylvania (LAMPa) lutheranadvocacypa.org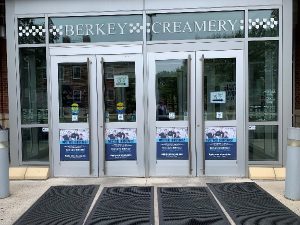 The Penn State Creamery, where the
fruits of PA's agricultural research
are served up to millions of fans,
proved an excellent setting for several
LAMPa midstate summer meetings before
some 98,000 students returned for the
fall semester.
With the General Assembly in recess, August provided time for LAMPa staff to connect with partners, traveling the state to meet with new and longtime policy council members, coalition leaders, campus ministries and Pennsylvania's new Bishop-Elect Michael Lozano. Those conversations, as well as surveys of rostered leaders and LAMPa's network, will inform the work of our policy council at our retreat Sept. 22-23.
POVERTY: LAMPa staff and other members of the Interfaith Justice Coalition met with Rep. Francis Ryan about drafting legislation and developing a bi-partisan coalition to address intergenerational poverty.
HUNGER: Director DePasquale met with leaders of the PA Hunger Action Coalition to map strategy for the upcoming budget as well as responding to White House attacks on SNAP and related programs that will increase demand for state-level charitable support.
TRAFFICKING: DePasquale led a workshop at the Lower Susquehanna Synod convention of Women of the ELCA. Members celebrated passage of the Safe Harbor bill, on which they had worked for years, and learned how they can engage in other areas, including new anti-trafficking legislation.
RACIAL JUSTICE: DePasquale met with the Lower Susquehanna Synod Racial Justice Task Force, offering to amplify its work and sharing that we approach policy issues with a racial justice lens.
SANCTUARY: LAMPa staff responded to requests for information, including opportunities to act, stemming from the CWA sanctuary denomination declaration.
CIVIL CONVERSATIONS: LAMPa linked leaders who attended our Civil Conversations facilitator training in May and who are planning to introduce the process in their conferences and communities.
2020 CENSUS:  Program Director Lynn Fry attended the Keystone Counts quarterly 2020 Census planning meeting. LAMPa is working with the PA Council of Churches to help congregations connect with communities likely to be undercounted. An undercount could mean a substantial reduction in the $26 billion in federal census-directed funds.
---
Southeastern Synod
Hilton Austin, Southeastern Synod advocacy team
GUN VIOLENCE: We gathered at Liberty Plaza for a prayer vigil to end Gun Violence. Bishop-elect Kevin Strickland helped lead the prayers; we named the 609 people who where lost to gun violence in Georgia in 2018, along with prayers for peace.
CRIMINAL JUSTICE REFORM: We held a follow-up meeting on Ending Mass Incarceration to detail plans for the 2020 legislative session. Record Restriction is on the top of the list , along with expungements. We have target counties. We will also continue to battle against Cash Bail. We will also be joining others in encouraging Bryan Kemp to bring back the GA. Council on Criminal Justice Reform started by Gov. Deal.
IMMIGRATION: We continue our work on a teaching document on the Immigration Social Message. We still hope to finish and do a trial run at St. John's in September. On August 3rd, we attended Rise for Refugees in Clarkston, GA., where we talked about the Presidential Determination on the Refugee Resettlement Cap. Plans were made for a campaign contacting the Judiciary Committee and the President.
GEORGIA INTERFAITH PUBLIC POLICY CENTER: G.I.P.P.C. is no longer a dream. We had our first Board of Directors meeting and began making big plans for the 2020 Legislative session. This is really exciting; we have brought together a most amazing inter-religious group, including Episcopal, Jewish, Presbyterian, Methodist, Muslim, Baptist, and Lutheran to mention a few.
---
Washington
Paul Benz, Faith Action Network (FAN) fanwa.org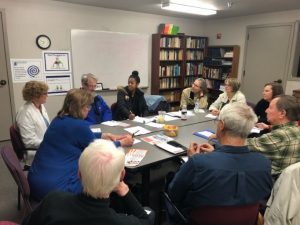 ANNUAL FALL CLUSTER GATHERINGS: Every July and August FAN begins planning for our annual Fall Cluster Gatherings. Our statewide network of 151 advocating faith communities is divided into 21 geographic clusters. The purpose of our gatherings is to deepen the relationships we have as we continue to build new ones, discuss critical issues affecting our communities, and often meet with an elected official as well.  Our first one will be in Southwest Washington on September 15.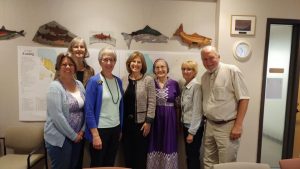 ELECTED OFFICIALS MEETINGS: FAN is busy year-round building relationships with elected officials and their staff, including members of Congress, state legislators, and local elected officials. Our FAN advocates and policy partners are key attendees at these meetings, advocating on the issues that matter most to them. During the August recess, our partners in the Muslim community set up a meeting of faith leaders on the issue of immigration with Sen. Patty Murray. Our partners at the Anti-Hunger & Nutrition Coalition set up a meeting with a new DC staff person of a Congressmember whose portfolio includes hunger, food, and nutrition. FAN also met with our newest member of Congress, Rep. Kim Schrier, who serves on the Agriculture and the Education & Labor Committees. FAN members living in her district engaged with her on several issues before Congress and her committees (pictured left).
RACIAL EQUITY FOCUS: Last month the FAN Governing Board and staff held a day-long facilitated retreat on the issue of racial equity, examining how we use this lens in every aspect of what we do – staffing, policy agendas, programming, etc. We look forward to next steps and being more intentional in defining the "why" of what we do.
---
Wisconsin
Cindy Crane, Lutheran Office for Public Policy in Wisconsin (LOPPW)           loppw.org
ADVOCACY IN CONGREGATIONS: Bishop Laurie Skow-Anderson invited the director to consult with a new social justice group she is convening.  The leaders from around the synod were filled with energy discussing their passions for justice, ELCA priorities, and how to organize around them as a public church.
STATE BUDGET: LOPPW has a one-page summary of highlights in the signed 2019-2021 WI State Budget in relationship to our priorities, with other updates included for the advisory council members at our annual retreat and for the bishops:   file:///Users/cynthiacrane/Downloads/201920-WI-State-Budget-Plus.pdf
LOPPW 2019/20 PRIORITIES: The LOPPW Advisory Council met for our annual retreat and decided upon keeping our same priorities because of legislative needs and our growing familiarity with the issues we've been addressing:
Calling for an End to Childhood Hunger
Addressing the Crisis of Human Trafficking
Caring for God's Creation
Supporting Immigration Reform
HUMAN TRAFFICKING: The director testified at one hearing on anti-sex trafficking. LOPPW is working with WELCA from the East-Central synod, the Northwest Synod, and South-Central Synod to organize a rally on September 24. Flyer:  file:///Users/cynthiacrane/Downloads/Safe-Harbor-Rally-Poster-1%20(5).pdf
IMMIGRATION: LOPPW has a new resource on immigration on immigration https://www.loppw.org/resources/immigration-and-refugees/
ADMINISTRATION: LOPPW has a new event set up on its website with a PayPal button.