The Trump administration expanded public charge rule is a punitive measure that will stoke fear and increase suffering in immigrant communities. This new policy would impose an unprecedented income test on persons seeking legal entry to the United States and deny entrance if they are judged likely to be or ever in the future become a "public charge" entitled to assistance with nutrition, housing or healthcare. In addition, current lawful permanent residents may have their applications for citizenship denied solely based on using or ever having used certain public programs such as the Supplemental Nutrition Assistance Program (SNAP).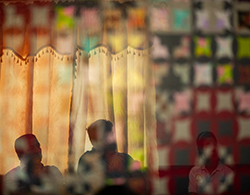 This policy will cause a cascade of negative impacts, including increasing hunger, blocking family unification and severely restricting immigration of people who want to come and contribute to our nation.
"This cruel policy change flies in the face of our commitments as a church to people seeking a new home here. Our social message on immigration commits us to 'work for policies that cause neither undue repercussions within immigrant communities nor bias against them,'" says the Rev. Amy E. Reumann, ELCA director of advocacy. "The public charge rule is an unneeded departure from current practice that prioritizes family unification and humanitarian needs and that values the vitality and contributions of all immigrants regardless of economic status."
We support benefits for lawful permanent residents as a public good, as stated in the ELCA social message on "Immigration":
Hundreds of thousands of comments were submitted through a interfaith coalition that included our Lutheran voices when the public charge rule was proposed. The ELCA submission stated that the proposed regulation would harm families by forcing vulnerable people to choose between maintaining or obtaining legal immigration status and meeting their family's basic needs, including those of children who are citizens. It further noted that the rule would penalize immigrants for seeking the very programs designed to help them attain self-sufficiency. This message that the only 'worthy' immigrants in the U.S. are wealthy is not only contrary to the country's history but also a notion that stands against our faithful teachings as Lutherans.
The rule will go into effect October 15, 2019, unless constrained by Congress or the courts. Please follow along with ELCA Advocacy as we continue to oppose this punitive and unnecessary rule change.