UPDATE 7/12/2019 – Our communities are bracing for nationwide raids by U.S. Immigration and Customs Enforcement (ICE) to begin on Sunday. Planned raids are reported to focus on 10 major cities where the Department of Justice has sped up immigration cases for thousands of recent arrivals.
Mindful of the biblical call and our strong Lutheran history of welcoming the stranger, our faith community strives to love our neighbors as ourselves. Since original posting, additional ways to respond include:
---
ORIGINAL POST 6/28/2019 – Recent news stories of appalling conditions at immigrant detention centers and of deep human sorrow on our country's southern border have many of us desperate to be part of change.
Lutherans have a deep-rooted history in refugee and immigrant issues. One of every six Lutherans in the world was a refugee or displaced person after WWII. The God-given dignity in all people and value of family unity have been cornerstones of ELCA faith-based advocacy, and we understand that many immigrants, as well as their families, are both afraid and confused by recent developments. Daily experience of ministries, Lutheran organizations and members "keep before us – so that we do not forget – the grim realities many immigrants face and the strength of character and resourcefulness newcomers demonstrate," notes the ELCA social message, "Immigration."
OUR PUBLIC VOICE
At the meeting point of our knowledge and values, here are some ways Lutherans have acted and can continue to respond.
"We follow a Lord who instructed, 'Let the little children come to me, and do not stop them; for it is to such as these that the kingdom of heaven belongs' (Matthew 19:14). As we continue to serve and love our neighbor, we pray for the well-being of children and families in detention, and we urge the presidential administration to seek alternatives to the detention of children."
REACHING OUT
In the ELCA Advocacy Action Center, Action Alerts are available for you to customize with your message to your member of Congress. Begin from the following.
GOING FURTHER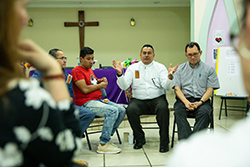 Additionally, congregations and individuals may want to take further steps.
CENTERED IN OUR FAITH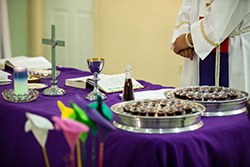 We hold in prayer the many migrants imperiled and struggling. We also pray for those on the forefront including ELCA congregations in U.S. border communities who are providing spiritual and physical sustenance, as well as border patrol officers, resettlement staff and many others charged with implementing our nation's policies compassionately. During Sunday worship, in personal devotions, or by hosting a prayer service with faith partners to generate awareness within your local community, here are some resources as we turn to God for wisdom and strength.
From the ELCA social message on "Immigration," incorporating affirmations from the social statements For Peace in God's World and Freed in Christ: Race, Ethnicity, and Culture.