My name is Charlotte Mildenberger. I am a vicar from Germany and currently interning at the Lutheran Office for World Community at the UN (LOWC).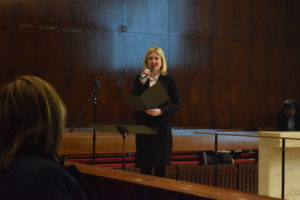 It was my first Commission on the Status of Women (CSW). CSW has been an amazing experience for me. It was so inspirational and moving to meet women from around the world and to listen to their stories and also to share experiences.
God wants justice in our world. Having the opportunity to be here at CSW and to advocate for what god wants is fantastic.
"The power of women works", women who worked and believed in their work: continuing the legacy".
When I return to Germany I will get my first congregation and start working as a pastor.
Rev. Dionne was asking me: Charlotte, you are about to become a pastor, what does it mean for you continuing the legacy. Now after CSW?
So I was reflecting on Rev. Dionnes question: After talking to women from around the world and learning about biblical women and their work, I feel inspired to take concrete actions. So how could these concrete actions look like?
First of all it means to listen back home to the stories of all women and girls. Also to share with them my experiences I made here at CSW. To inform them about the situation of women and girls around the world. It would be great to build possible partnerships worldwide.
I want to encourage women and girls in my congregation to take action. To take responsibility in their congregation and to stand up for their rights in their community. Also I think it is important to talk with people about the Sustainable Development Goals (SDGs) because many people have never heard about them. And especially about SDG 5 – gender equality.
The biblical women have inspired me to follow my own path. To be sensitive for what god wants me to do in our world. How I can help others.
In Germany we currently have a lot of refugees. Many of them are women and children. An issue that is close to my heart is empowering refugee women and children through education and employment.
Congregations are important places also for education. When I go back to Germany I want to make sure that refugee women and children will have access to education in my congregation, for example language courses.
Now being here at the UN during CSW is of course a great opportunity to do advocacy – but it is also extremely important to continue the advocacy work back home at the grassroots level.
During our opening service we saw a play where the biblical women were gathering. They were sharing their stories. It was a very intense scene watching the women sharing their stories, supporting each other, building networks.
This is for me the final frame and also the first step to be able to take concrete actions and to continue the legacy – supporting each other and building networks – because only together we can make a difference!