Following are updates shared from submissions of the Lutheran Office for World Community and state public policy offices (sppos) in the ELCA Advocacy Network this month. Full list and map of sppos available.
U.N. | Colorado | Minnesota | Texas | Washington
---
U.N.
Lutheran Office for World Community (LOWC), United Nations, New York, N.Y. – ELCA.org/lowc
Dennis Frado, Director
The General Assembly's Third Committee held its annual dialogues with special human rights mandate holders and others. Of particular interest were:
---
Colorado
Lutheran Advocacy Ministry Colorado (LAM-CO) – lam-co.org
Peter Severson, Director
ELECTION DAY RESULTS: Coloradans voted on three statewide ballot measures on Election Day, November 2, and all were defeated. LAM-CO opposed all three because we believe there are more just and equitable legislative pathways to accomplish some of these ideas.
We can increase the accountability of custodial spending, but we don't need to require every dollar to go through an inefficient and cumbersome bureaucratic process in order to be spent.
We can boost tutoring and after-school learning opportunities, but we don't need to create a separate program outside of the Department of Education, funded by vice taxes.
We can provide targeted relief to property tax-payers who most need it, but we don't need an across-the-board cut that will hurt local services while benefiting the wealthiest property owners the most.
The results are below:
Amendment 78, Legislative Authority for Spending State Money
Proposition 119, Learning Enrichment and Academic Progress Program
Proposition 120, Property Tax Assessment Rate Reduction
---
Minnesota
Tammy Walhof, Director
Lutheran Advocacy-Minnesota recently took part in the decision-making process for the 2022 policy agenda of Homes for All, a statewide coalition of 240+ endorsing organizations that advocates for housing stability for all Minnesotans. Tammy Walhof and Rachel Wyffles listened to 26 policy proposals over two days and scored each according to criteria that evaluated urgent need and effectiveness. LA-MN then participated in two sessions of discussion in which scored proposals were considered in the context of Homes for All's five policy buckets: Build more, equitable access and fair treatment, housing stability/anti-displacement, preserve the homes we have, and wealth building. We had great discussions throughout the process, and we look forward to working towards these priorities in the 2022 legislative session! 
LA-MN is also contributing to discussions around clean energy with our environmental coalition partners as they decide on priorities for the 2022 legislative session. They are looking towards smaller, more project-based priorities for the 2022 session.  
Wyffles had the opportunity to speak to 110 youth from around the country who were gathered at the ELCA Youth Leadership Summit in Minneapolis. She spoke about what advocacy is, gave context for how advocacy is an integral part of Lutheran faith, and provided ideas for how to incorporate advocacy in youth ministry. The youth were an insightful and inspiring group, asking great questions and expressing enthusiasm for getting involved with the ELCA Advocacy Network in their own states. 
---
Texas
Scott Atnip, Outreach Director
It has been a busy year in Texas with the Texas Legislature convening their regular 140 day legislative session followed by three special sessions, concluding in October. The third special session focused on redistricting, spending American Rescue Plan Act funds, anti-trans legislation, critical race theory and a failed attempt to ban vaccine requirements by statute. The work continues to equip and mobilize Texans of faith to help them understand what is happening in their Texas Legislature through ongoing programming, including the Weekly Witness podcast, Rapid Response Team and Legislative Engagement Groups.  
Plans are underway to host an election training to help congregations understand how the new voting laws will impact their communities and to share best practices for congregations to support local infrastructure. Texas Impact also sent a delegation to COP26 in Glasgow with plans to report back to Texas congregations.  
---
Washington
Faith Action Network (FAN) – fanwa.org
Paul Benz and Elise DeGooyer, Co-Directors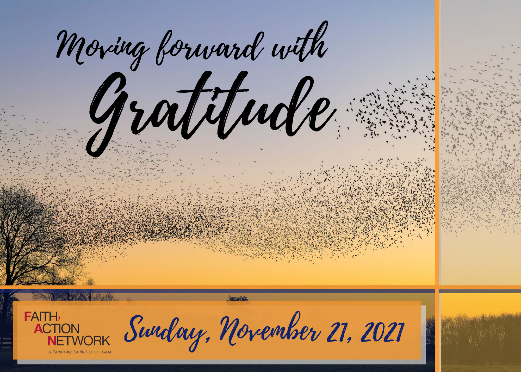 FAN Annual Dinner We will host our annual fundraising celebration virtually on Sunday, November 21 to celebrate our 10th birthday, Rev. Paul Benz's years of service, and our shared future. Advocates across the state will be joining us online, with the option to gather in small COVID-safe watch parties. You're welcome to join from your state – register here to receive the event link: bit.ly/FANDinner2021
Statewide Policy With the help of our Economic Justice team leaders, FAN sent many advocates across the state to virtual Tax Town Halls led by the state Tax Structure Work Group to envision a new way forward for a fair taxation system in WA State. The Department of Revenue also hosted listening sessions on the implementation of the newly-funded Working Families Tax Credit, which FAN has advocated for in many sessions. The statewide eviction moratorium ended on October 31 despite calls for a continued extension by many organizations and individuals. We will continue to work with cities to extend their moratoriums and provide eviction prevention measures and rental assistance as families recover from the economic impacts of COVID-19.
Welcoming New Staff We welcomed two new staff to the FAN team – Elizabeth Dickinson is our Partnership Coordinator who will be working with our Network of Advocating Faith Communities, and Juli Prentice is our Outreach and Organizing Intern through Seattle University's School of Theology and Ministry. We look forward to the fresh energy they will bring to our outreach and organizing!