Marit Johnson is the current Lutheran Volunteer Corps member serving as the Assistant for the Justice for Women Program at the ELCA churchwide offices in Chicago.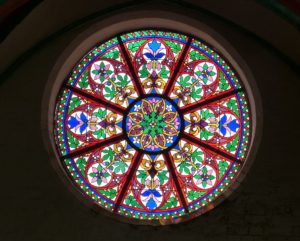 A kaleidoscope of color is streaming in from the stained-glass windows of the Church Center of the United Nations. The warmth of this light fills the room and the hearts of those singing, "Bambelela! Bambelela! – Never give up! Never give up!"
"Bambelela" is a South African song that our delegation Lutheran World Federation chose to match our given chapel text from Esther. Esther never gave up in protecting and advocating for her people. At times, gender-justice work seems overwhelming. This year is the 61st session of the U.N. Commission on the Status of Women. Sometimes it feels appropriate to ask, "How much progress has been made in these 61 years?"
In his opening remarks on the theme of women's economic empowerment to the General Assembly, Secretary General Antonio Guterres said, "Empowerment is about breaking structural barriers." He continued by saying, "Women's rights are human rights and attacks on women are attacks on all of us."
We are all part of the body of Christ. When we harm one member, we harm us all. Gender-justice work is a marathon. As we move forward, we remember those who came before us. We think of those who will come after us. And we think of all of those that we are held accountable to in this work, and we remember that we carry hope in Christ Jesus and his love for all.
Bambelela! Never give up. Amen.
Bambelela, Bambelela,
Oh, Bambelela, Bambelela
Bambe, Bambe, Bambe, Bambe, Bambe
Oh, Bambe, Bambelela
Never give up, Never give up,
Oh, Never give up, Never give up
Never, Never, Never, Never, Never
Oh, Never, Never give up