U.N. | CALIFORNIA | COLORADO | NEW MEXICO | NORTH CAROLINA | OHIO | PENNSYLVANIA | SOUTHEASTERN SYNOD | WASHINGTON | WISCONSIN
*From April 29 to May 1, the Lutheran Office for World Community and state public-policy offices attended the 2019 ELCA Advocacy Convening in Washington, D.C. The theme of the convening was, "Prepared to Care: Our Advocacy in Light of Disasters Intensified by Climate Change". Over 70 attendees, including ELCA bishops, community leaders, and state public-policy advocates, participated in workshops, trainings, and hill visits with their legislators.
---
Lutheran Office for World Community, United Nations, New York
Dennis Frado, director
UNITED NATIONS COMMISSION ON POPULATION AND DEVELOPMENT (CPD):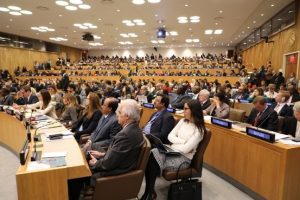 Photo: CPD; Credits: UN DESA
The 52nd session of the Commission on Population and Development (CPD) took place at the Headquarters of the United Nations in New York from April 1 to 5. The theme of this year's session was: "Review and appraisal of the Programme of Action of the International Conference on Population and Development and its contribution to the follow-up and review of the 2030 Agenda for Sustainable Development". At the opening session the commission adopted a "declaration on the occasion of the 25th anniversary of the International Conference on Population and Development". This was the first time ministerial declaration passed by the commission after several years; during this time the commission has been unable to adopt a resolution because some countries (the U.S. included reportedly) oppose any text referring to sexual or reproductive health and rights.
Among the many side-event that took place was, "Faith-based Approaches to Sexual and Reproductive Health from a Human Rights' Perspective" organized by ACT Alliance, the World Council of Churches, UN AIDS, Faith to Action Network, Islamic Relief-USA, the Milstein Center for Interreligious Dialogue, United Nations Population Fund (UNFPA) and Permanent Missions of the Philippines and Norway. The event emphasized that religious actors play a crucial role in advancing gender equality and sexual and reproductive health and rights. Specific topics included delivery of health and education services and how religious leaders and other religious authorities function as "norm setters", and their relationships as advocates with legislators nationally and globally. Watch the event here. Read the full report on the general debate over sexual and reproductive rights during CPD session here.
 EIGHTEENTH SESSION OF THE UNITED NATIONS PERMANENT FORUM ON INDIGENOUS ISSUES (UNPFII) 2019: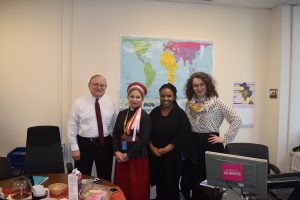 The Rev. Mari Valjakka (second from left), Sami pastor in the Evangelical Lutheran Church of Finland and moderator of the World Council of Churches' reference group on indigenous peoples, visited the Lutheran Office for World Community during the recent UN Permanent Forum on Indigenous Issues.
The Lutheran Office for World Community attended the 18th session of the United Nations Permanent Forum on Indigenous Issues (UNPFII) held April 22 – May 3 the Headquarters of the United Nations. This year indigenous people are sharing invaluable knowledge and information around the theme "Traditional Knowledge: Generation, Transmission and Protection."
 The chair of the forum stated that "traditional knowledge is at the core of indigenous identity, culture and heritage around the world and must be protected." Discussion centered on the urgent need to preserve and revitalize indigenous languages in this the International Year of Indigenous Languages. According to the publication Ethnologue:Languages Around the World, of the 7000 languages spoken around the world 2,680 are in danger of disappearing, and with them the important culture and practices they articulate.
During the session on human rights of indigenous peoples, Victoria Tauli Corpuz, the UN Special Rapporteur, spoke on attacks on and crimes against indigenous peoples, highlighted in her 2018 report to the Human Rights Council. Her 2019 report will focus on indigenous governance and systems.
Other side-events during the forum included, the launch of "Indigenous Youth: Through Their Eyes," a book by the Global Indigenous Youth Caucus and the UN Special Envoy on Youth in collaboration with Columbia University. Fourteen indigenous youth contributed to the book, representing all seven regions of the world. They shared a unique perspective on indigenous issues that are affecting the world today.
Read more about the United Nations Declaration on the Rights of Indigenous Peoples, adopted by the General Assembly in 2007.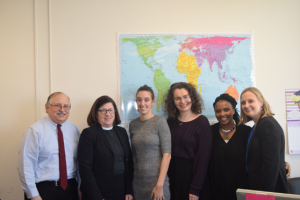 During April, ELCA Presiding Bishop Elizabeth Eaton (second from left) paid her first visit the Lutheran Office for World Community, accompanied by Kathryn Lohre, ELCA executive for ecumenical and interreligious relations (far right).
---
California
Regina Q. Banks, Lutheran Office of Public Policy- California                                                        loppca.org
ADVOCACY CONVENING: California was well-represented at this year's Advocacy Convening held April 29 through May 1 in Washington, D.C. The theme of this year's event was "Prepared to Care: Our Advocacy in Light of Disasters Intensified by Climate Change". The California delegation consisted of Bishop Guy Erwin of the Southwest California Synod, Debi Groon of Lutheran Social Services of Southern California, Wylie Cook a seminarian and board member of the Lutheran Office of Public Policy- California, and Regina Q. Banks, director of LOPP-CA.
The delegation discussed the ELCA's commitment to disaster response and preparedness with congressional representative Gilbert Cisneros (CA-39), Doris Matsui (CA-06) and Brad Sherman (CA-30),  as well as senators Kamala Harris and Diane Feinstein. All of the meetings went very well and it was decided all of the offices were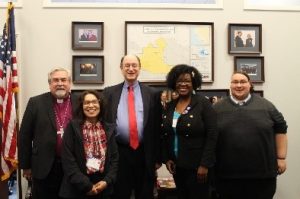 receptive to the ELCA Advocacy Ask.
LUTHERAN LOBBY DAY IN SACRAMENTO: Washington was good practice for California's first statewide advocacy event scheduled for Wednesday May 29th in Sacramento. You can still register for Lutheran Lobby Day at the State Capitol. Participants from D.C. will give an in-depth debrief. Information and a link to register can be found at www.loppca.org
---
Colorado
Peter Severson, Lutheran Advocacy Ministry–Colorado                                                                 lam-co.org
LEGISLATURE CONCLUDES: The Colorado General Assembly adjourned on Friday, May 3, after four months of legislative work in 2019. Major priorities of the Lutheran Advocacy office this session included death penalty abolition, paid family leave, school lunch access, renter's rights, and climate action. The assembly had not adjourned by our deadline, so consult our June update for a full run-down of how these priorities fared.
ADVOCACY CONVENING: Colorado was represented at the ELCA Advocacy Convening in Washington, D.C. from April 29 to May 1. Peter Severson, director of LAM-CO, and Jim Gonia, Bishop of the Rocky Mountain Synod visited with staff of the Colorado congressional delegation on Capitol Hill.
ROCKY MOUNTAIN SYNOD ASSEMBLY: The Rocky Mountain Synod convened May 3-5 for its 2019 assembly in Albuquerque, N.M., under the theme "Be Transformed!" The event featured keynote speaker Fr. Richard Rohr and also lifted up the ministries of the RMS that are leading hospitality for migrants in Las Cruces and El Paso.
CONGREGATION VISIT: Thank you to the people of Our Saviors' Lutheran Church in Fort Collins for hosting LAM-CO Director Peter Severson, who preached at their Wednesday Lent service on April 3!
---
North Carolina
GeoRene Jones, North Carolina Synod Social Justice & Advocacy Ministries (SJAM) Advocacy@NCLutheran.org
Last month we reported on our March 26 Advocacy Day event, Lutherans at the Legislature 2019, and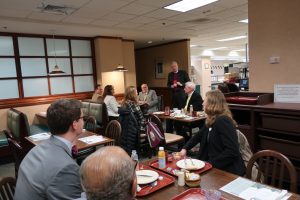 follow-up efforts by congregations across the state. Our advocacy focus was to raise awareness about the significant number of homeless people in our communities and to ask for increased support from the state for affordable housing initiatives across our 100 counties.
One week later, on April 2, legislators in the North Carolina House of Representatives introduced House Resolution 564, which would create a North Carolina House of Representatives select committee on homelessness.
The measure, which passed first reading on April 4, is now under review by the House Com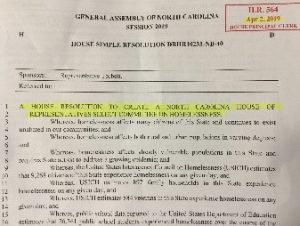 mittee on Rules, Calendar, and Operations, and we are hopeful that the resolution will be allowed to the floor and passed before the end of this year's legislative session.
SJAM efforts in this area of advocacy continue, our next event being a pre-assembly educational forum on homelessness and affordable housing.
---
New Mexico
Ruth Hoffman, Lutheran Advocacy Ministry- New Mexico (LA-MN)            lutheranadvocacynm.org
GOVERNOR MICHELLE LUJAN GRISHAM SIGNS BILLS SUPPORTED BY LUTHERAN ADVOCACY MINISTRY-NM: Eight bills for which LAM-NM advocated during the 2019 legislative session made it to the governor's desk for consideration and were signed into law: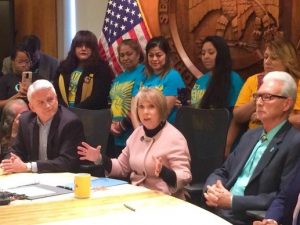 Workers look on as Gov. Lujan Grisham prepares to sign a bill increasing the

state minimum wage to $12.
Increasing the state minimum-wage to $12 by 2023;
Protections for domestic workers under the state minimum wage and labor laws;
Stricter requirements and reporting for small loans;
Creation of the mid-level dental profession of dental therapist which can expand access to oral health care for low-income New Mexicans;
Prohibiting trafficked minors from being charged with prostitution;
Prohibiting solitary confinement for children, pregnant women, and people with a serious mental illness;
Increasing the state Working Families Tax Credit, which piggy-backs on the federal Earned Income Tax Credit, from 10 % to 17%; and
Prohibiting most employers from asking on initial job applications whether or not an applicant is a felon.
---
Southeastern Synod
Hilton Austin, director
WASHINGTON, D.C. ADVOCACY CONVENING: We just returned from D.C. We had good visits with our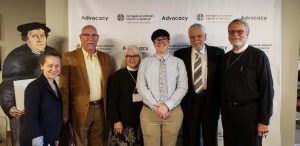 legislators or their assistants; Rob Woodall (GA) and Gary Palmer (AL) individually welcomed us to D.C. and talked with us for 30 minutes. It was very refreshing to have them take time out of a very busy day to speak with us.
MISSISSIPPI LEGISLATION 2019 – '20 SESSION: Mississippi's legislative session has closed for the year. We were fortunate to have six of the bills we supported pass.
Criminal Justice Reform:
HB1352 – This bill will create the "Criminal Justice Reform Act." which redefines certain courts (such as drug courts) as "intervention courts," removes the offense of contempt for an individual's inability to pay fines, and revises expungement procedures to make them more inclusive.
SB2328 – This bill will create the "Forensic Mental Health Act of 2019," to ensure protections for people with mental health concerns who are involved in the justice system.
HB1284/SB2781 – This bill will create the "Mississippi Fresh Start Act" which states that no person pursuing, practicing, or engaging in any occupation that requires a license shall be disqualified solely or in part because of a prior conviction, unless that conviction directly relates to the duties and responsibilities of the licensed occupation.
Environmental Justice:
HB1568 – This bill will authorize the issuance of state general obligation bonds in the amount of $27,940,000 to provide matching funds for the Water Pollution Control Revolving Fund.
Education:
HB637 – This bill will create the Voter Enfranchisement Study Committee to examine the impact of non-violent offenses on enfranchisement.
Healthcare:
SB2267 – This bill will create and act to amend the code of Mississippi to transfer the responsibilities of the Mississippi Commission on Expanding Medicaid Managed Care to the Medical Care Advisory Committee within the division of Medicaid in order to monitor and study the Medicaid Managed Care payment program and to make an annual report to the legislature. The bill will also authorize the Medicaid Care Advisory Committee to consult with similar groups.
---
Ohio
Nick Bates, Hunger Network in Ohio                                                                     www.hungernetohio.com
THE OHIO BUDGET – A MORAL DOCUMENT: Ohio continues to trail the nation in hunger, infant mortality, college tuition, income, and overdose death rates. We must do better. Faith leaders across Ohio attended an advocacy day at the Ohio statehouse in early April to discuss affordable housing, food security, a refundable Earned Income Tax Credits (EITC), and fair school funding. The senate will spend May putting their mark on the budget before a final version goes before the governor by June 30.
TAKE ACTION WITH A LETTER TO YOUR LOCAL PAPER: Public officials are dealing with many important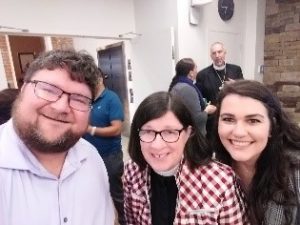 issues in the state budget, but you can help lift up the needs of hungry Ohioans with a letter to the editor. CLICK HERE for instructions and a link to your local newspaper. This advocacy is extremely important!
OTHER HAPPENINGS: The Hunger Network was pleased to join our ELCA colleagues in Washington, D.C., for an advocacy convening on climate change and disaster. As we know, those already struggling to get by will bear the brunt of the impact of climate change. (top: Nick Bates, Presiding Bishop Eaton, and Amanda Silcox) . (bottom: Nick Bates, Sen. Rob Portman, John Pyron, and Paisha Thomas).
FAITH ADVOCACY TABLE: HNO continues to assist in convening an inter-faith table of statewide advocates. Paisha Thomas, an ELCA Advocacy Fellow, facilitates the day's conversation.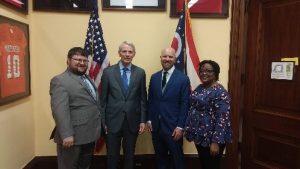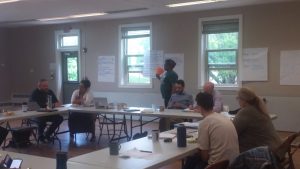 ---
Pennsylvania
Tracey DePasquale, Lutheran Advocacy Ministry – Pennsylvania (LAMPa)                      lutheranadvocacypa.org
ELCA ADVOCACY CONVENING: LAMPa staff joined Bishop Collins and Bishop Dunlop of the Upper and Lower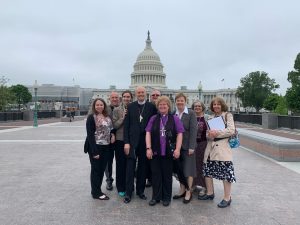 Susquehanna synods, respectively, as well as five LAMPa advocates in Washington, D.C., for the ELCA Advocacy Convening "Prepared to Care: Our Advocacy in Light of Disasters Intensified by Climate Change." Along with bishops and leaders from around the country, the group learned about climate and disaster response before visiting lawmakers to advocate for policies to address the threats posed to all.
LUTHERAN DAY AT THE CAPITOL: Registration is open for our day of advocacy on May 20, which will begin at Trinity Lutheran Church in Camp Hill and include presentations on hunger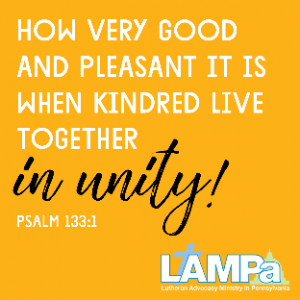 and child nutrition, human trafficking, climate change, prescription drug pricing, the ELCA proposed Declaration of Inter-Religious Commitment with keynote speaker Kathryn Lohre, and more. In addition, the day will include worship, legislative visits, breakfast, lunch and a celebration of advocates from each synod. The advocacy day is part of a two-day event on the theme "Set A Welcome Table," designed to equip disciples to live into the beauty of Psalm 133:1: "How very good and pleasant it is when kindred live together in unity!" More.
CIVIL CONVERSATIONS TRAINING: On May 19, LAMPa will co-host training inspired by Krista Tippett's "On Being" podcast and the Civil Conversations Project. Designed to help participants improve their skills for engaging in meaningful conversations in divided times and organize civil conversations in their community. This event invites people of all faiths to build a thriving, diverse democracy. More.
---
Washington
Paul Benz, Faith Action Network (FAN)                                                                                              fanwa.org
The Washington State legislative session adjourned right on time, and we were busy working to ensure that policies passed will prevent poverty, build housing, protect immigrants, promote civil rights, create clean energy, restore justice to the criminal justice system, and increase public access to medical and mental health care!
HERE ARE JUST A FEW OF OUR EXCITING SUCCESSES OF 2019'S SESSION:
The 2019-'21 biennial operating budget of $52.4 billion, which includes some increases for affordable housing and our broken mental health system.  We took a small step toward progressive tax reform by revising REET (Real Estate Excise Tax) and how home sales are taxed in our state.
100% Clean Electricity (E2SSB 5116) – The nation's most comprehensive clean energy bill which will eliminate Washington State's use of fossil fuels by 2045.
Religious Zoning (SHB 1377) – Authories a "density bonus" for faith communities building affordable housing on their properties.
Keep Washington Working (E2SSB 5497) – Separates the work of local law enforcement from that of federal ICE agents, allowing immigrant families to participate in their communities without fear of deportation.
Initiative 1000 – This petition to restore affirmative action in jobs, contracts, and education was signed by more people than any other in the history of Washington State.
Use of Deadly Force (SHB 1064) – R

estricts the use of deadly force by law enforcement.

The first bill to be signed by the governor this year, based on Initiative 940 which was passed by Washington voters in late 2018.
Missing & Murdered Indigenous Women (2SHB 1713) – Improves law enforcement response to the safety of indigenous women.
FAN HAS BEEN WORKING FOR PEACE IN UNJUST AND DIFFICULT TIMES. We celebrated as the No Ban Act was introduced at the federal level and we met with local staff senators Murray and Cantwell who support the measure. As part of Holy Week, we attended a Table Turning event at Tukwila Detention Center to call out the systems of oppression that harm our neighbors. We mourned with the victims of the shootings in Sri Lanka and San Diego, attacks on people of faith that come far too frequently. We hosted a Statewide Giving Day on April 30 and took to the streets the following day to march with our union friends for May Day. Our work extends from our local communities across the state to the federal level.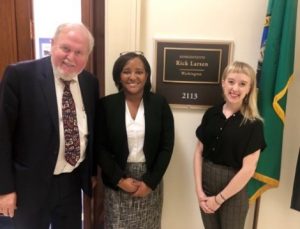 PAUL AND SARAH ATTENDED THE ELCA ADVOCACY CONVENING IN WASHINGTON, D.C., and met with the staff of Washington State's congressional respresentatives. We discussed climate change, natural disaster response, and funding for Puerto Rico.
---
Wisconsin
Cindy Crane, Lutheran Office for Public Policy in Wisconsin (LOPPW)                                       loppw.org
Our state government is currently shaping its 2019-20 budget. Many of our efforts as an individual ministry and in coalition with our partners have been focused on influencing the budget according to our priorities on hunger and poverty.
PEOPLE OF FAITH UNITED FOR JUSTICE – INTERFAITH ADVOCACY DAY: One of our budget priorities was clean drinking water in Wisconsin, on which LOPPW took a leadership role. LOPPW's director, Cindy Crane, and Lutheran Campus Ministry Faith and Vocation Fellow, Sarah Schultz, co-led a workshop on the state of drinking water in Wisconsin. Both Schultz and Hunger Fellow Kelsey Johnson served as legislative captains, leading participants from their assigned districts to their state senator's and representative's offices.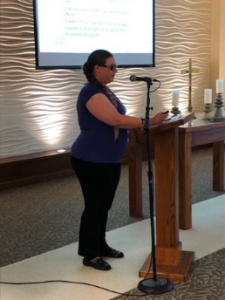 Sarah (left) co-leading the first of two 30-minute water presentations.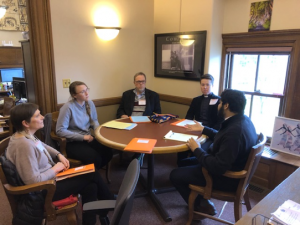 Kelsey (right) leading participants in a discussion during a legislative visit.
Water presentation video: https://www.facebook.com/LOPPW/videos/369178180354191/
JOINT FINANCE COMMITTEE PUBLIC HEARINGS: The director of LOPPW testifed on water, human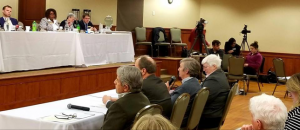 trafficking, driver's licenses, and federal dollars for Badger Care at the commitee's first public hearing, held in Janesville.
Kelsey and LOPPW volunteer Laura Hermanns attended the hearing in the Milwaukee area. LOPPW volunteer and WELCA leader Shirley Paulson attended the hearing in Green Bay.