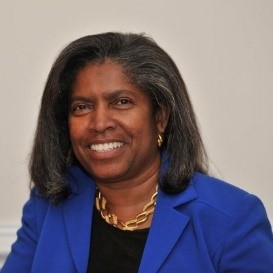 Please welcome Ruth Ivory-Moore to ELCA Advocacy! Ruth has joined our team as Program Director for Environment and Energy Policy! Ruth brings a background and careers in chemical engineering, and as a corporate legal counsel. Her legal specialties including climate change, commercial, contracts, environmental, and antitrust law. Ruth believes that "all things work together for good to those who love God, to those who are the called according to His purpose…" (NKJV Romans 8:28).   She feels that serving in the Environment and Energy Policy position is a blessing from God allowing her to use her diverse background to address critical issues.
As I walk down the sidewalk to find a place to eat lunch not far from the steps of the Capitol, I notice a squirrel that is leisurely sitting on the back of one of the benches. As I pass within three feet of him, he does not flinch or attempt to flee. Our eyes meet. He looks very content, as if to say "join me if you like, but I am here to stay." I elect to walk passed my animal friend to another bench that is well positioned under majestic shade trees. The temperature must be approaching 100oF, but there is a nice breeze that makes one forget the sweltering heat.
I begin to eat my lunch, and I notice black and gray colored birds scampering around and flying between trees. They seem to be at peace and happy. For a moment, I forget about the headline news: unrest across the waters; turmoil in our communities; and racial tensions that continue to exist. I marvel at God's creations (Genesis 1:1; Colossians 1:16). I marvel at the synchronization; the synergy; and the beauty.
But then reality hits. I am reminded that this squirrel and those birds are so content; the trees are providing shade; the wind provides cooling; all in nature working in harmony. They have no concern about the damage that climate change is doing to the environment. I am who needs to be concerned.
God calls on us to care for and protect all of creation. Should we not embrace this responsibility?
Nowhere is this calling more important than in our work toward eliminating the causes of, mitigating the impact of, and implementing adaption measures for addressing climate change. While resolving to address climate change impacts on creation is not hard, the path toward a solution appears monumental. This is a challenge not seen by humankind before. A few recent news items help to shed some light on the complexity of the challenges our country faces in trying to develop innovations that will also address climate change:
Last year, Hawaii pledged to convert to 100 percent renewable power by 2045. The path to accomplishing this has not been mapped out. One major obstacle identified is the current power grid. Renewables will produce excess power and the grid was not designed to handle this excess energy.  How is this excess power to be stored for later use?
The current Administration is attempting to make it financially easier to purchase zero emissions vehicles, that is, electric cars. But how does one really get to zero emissions? The electricity used to power these vehicles is produced by generators that are predominately fueled by fossil fuels. Renewable fuels account for only about 13% of the electricity generated.
Other areas to consider not in the news include:
What does global travel look like in a renewables world? How are passenger airplanes to be fueled? The fuel cell needed would be too heavy.
What alternatives are needed to transition the use of everyday things made from hydrocarbons derived from fossil fuels that go into making items such as cosmetics, clothing, and medical supplies; food items such as artificial ripening of fruit; and food grade polymers for chewing gum base?
How is the displaced worker and the community whose livelihood (existence) depends on fossil fuels to survive? How do we help them to transition to other technologies?
These are only a few items to consider, which makes the task at hand daunting. But we know that all things work together for good to those who love God, to those who are called according to God's purpose (Romans 8:28). In carrying out God's mandate to be stewards we must take care of all creation, not leaving anyone or anything behind. Now is a time for action that entails us using our God given intelligence and skills to devise solutions to address climate change from every angle.