Following are updates shared from submissions of the Lutheran Office for World Community and state public policy offices (sppos) in the ELCA Advocacy Network this month. Full list and map of sppos available.
U.N. | CALIFORNIA  | COLORADO | MINNESOTA | PENNSYLVANIA | WASHINGTON | WISCONSIN
Lutheran Office for World Community (LOWC), United Nations, New York, N.Y. – ELCA.org/lowc
Christine Mangale, Director
The Lutheran Office for World Community(LOWC) hosted a delegation of Lutherans as they engaged in the

United Nations Permanent Forum on People of African Descent (UNPFPAD)

in its second session at the United Nations. This year the PFPAD was held at the UN Head Quarters in New York City from Monday, May 29

th

through Friday, June 2nd. A delegation of ELCA staff attended these meetings. LOWC co-sponsored a side-event with the Black Alliance for Just Immigration (BAJI) entitled: "Confronting Anti-Blackness in Global Migration.

 

LOWC Director Christine Mangale attended and supported pre-Assembly meetings of the Lutheran World Federation in the Africa Region. She also met with the General Secretaries of the National Council of Churches of Kenya, Religions for Peace, and the Council of Anglican Provinces of Africa. 

 

LOWC Staff supported the official Bishop visit to Norway offering a presentation of our joint and delineated advocacy portfolios as the ELCA/LWF and in partnership with NCA and the Church of Norway (namely the Women's Human Rights Advocacy Training). These meetings have already led to several planning conversations for further collaboration at the UN.

 
California
Lutheran Office of Public Policy – California (LOPP-CA) – lutheranpublicpolicyca.org
Regina Banks, Director
The 4th annual Lutheran Lobby Day was a resounding success! 60 people gathered in Sacramento to advocate around the priority bills to over 30 legislative offices. Lobby Day also included a keynote address from Dr. Cynthia Moe-Lobeda of Pacific Lutheran Theological Seminary and Advocacy 101. Thank you to everyone who attended or participated in some way, and we're looking forward to Lobby Day 2024. Thank you especially to Bishop Brenda Bos and the Southwest California Synod for underwriting costs of Lobby Day! 
Three of the four priority bills from Lobby Day, SB 4 (Wiener), AB 249 (Holden), and AB 660 (Irwin), made it out of their houses of origin and will move forward in the legislature this summer.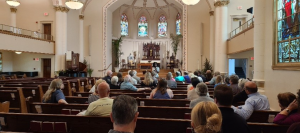 Colorado
Lutheran Advocacy Ministry Colorado (LAM-CO) – lam-co.org
Peter Severson, Director
ROCKY MOUNTAIN SYNOD ASSEMBLY: This year's RMS Assembly took place in El Paso, Texas, May 15-18. At this year's Assembly, Bishop Jim Gonia pledged that voting members would be invited to participate in a coordinated advocacy action to build on their experience at the border. We are currently crafting the details of that action with our synod's advocacy staff in Colorado, New Mexico and the Washington D.C. office. All people in the synod are invited to take part, not just voting members at synod assembly, so stay tuned!  
JUNETEENTH & SLAVERY ABOLITION: The End Slavery Colorado coalition was tabling & engaging community members during Juneteenth weekend celebrations in Denver (Five Points) and Colorado Springs. We also supported a panel discussion, hosted by Together Colorado and End Slavery Colorado on Monday, June 19th, to learn more about "orange collar" (incarcerated) labor. The event took place at Shorter AME Church in Denver and featured academic, political, and other community leaders.  
Minnesota
Tammy Walhof, Director
End of Legislative Session: I'm not sure there has ever been a year quite like this one. Usually, we're playing defense on several issues to prevent cuts, while proactively working on some broad items that can take years to get passed adequately. This year everything was happening at once, including new items related to our issues that came out of nowhere.  
Clean Energy: Following rapid passage in 2023 of a new Clean Energy Standard on which LA-MN worked for many years, our focus shifted. Concerted advocacy efforts with partners played meaningful roles in creating a State Competitiveness Fund ($190 million) for federal program matches, and final spending bill inclusion of state emission goal updates and a new Minnesota Climate Innovation Finance Authority for clean energy economy energy transition ($45 million). 
Affordable Housing: LA-MN worked closely with Settled and Joint Religious Legislative Coalition (JRLC) to pass Sacred Tiny Home Community legislation, changing zoning laws to allow faith-community hosting for people who have experienced chronic homelessness and "Good Neighbor" volunteers. Other Homes for All (H4A) agenda items over several years passed, including rental/eviction reforms. With other H4A partners, we helped generate broad statewide grassroots support for significant housing investments – budget passage included more than $1 billion (much 1x spending from the surplus) for new housing construction, rehabilitation, and preservation; rental assistance; down-payment assistance for new low-income or BIPOC homebuyers; and $100 million for homeless shelter creation. 
*Find our 2023 agenda and long Legislative Summary here (Can you sense the magnitude of this year's accomplishments?). 
Pennsylvania
Lutheran Advocacy Ministry – Pennsylvania (LAMPa) lutheranadvocacypa.org
Tracey DePasquale, Director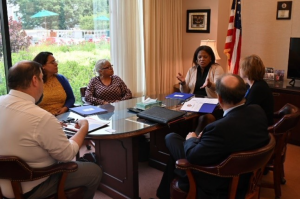 It's the busiest season of the year for Lutheran Advocacy Ministry in Pennsylvania(LAMPa), with seven synod assemblies and a state budget deadline looming.  
LAMPa Director Tracey DePasquale has been accompanying partners on legislative visits on budget priorities, including hunger and housing, in addition to work on climate policy, environmental justice and measures to address hate crimes and end LGBTQ+ discrimination. LAMPa advocates are contacting lawmakers to share the dramatic increase in need that our ministries are witnessing, urging substantial increases in the state's support for anti-hunger programs as well as passage of bipartisan legislation to lift the funding cap on the state's housing trust fund.  
DePasquale also attended the inaugural meeting of the first statewide Food Policy Council, whose creation LAMPa and partners in the Pennsylvania Hunger Action Coalition had long advocated. Learn more.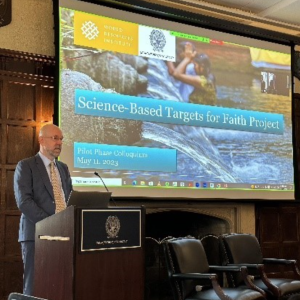 Staff or policy council members continued to represent LAMPa at synod assemblies.  
In addition, DePasquale attended a colloquium with World Resources Institute at Georgetown University regarding science-based targets for faith-based organizations on behalf of the ELCA's sustainability initiative.  
LAMPa has positions available for a full-time communications and advocacy engagement manager as well as a 2023-24 Hunger Advocacy Fellow. 
Washington
Faith Action Network (FAN) – fanwa.org
Elise DeGooyer, Director
We enjoyed two Spring Summits this month, with people from across the state joining online plus a room of advocates in person in Southwest Washington, to hear Faith Action Network (FAN) updates and connect across issues and regions in small groups. We are grateful to the 90 FAN advocates who joined our summits in May and June to engage with the issues that motivate us to take action. Their input and priorities will help inform our planning for the year ahead. 
This Pride month, FAN marched and celebrated with other faith communities to share a message of love and belonging. In response to the current narrative spreading division and hate in some of our communities, we encourage everyone in our network and beyond to use this important Protecting Pride guide, recently released by the Western States Center, when planning or participating in Pride activities.
FAN was also on site, supporting several Juneteenth that happened in June. FAN was honored to co-sponsor, alongside community partners, an incredible musical celebration of Juneteenth in Seattle, called Songs of Black Folk 2023: Music of Resistance & Hope. You can watch last year's inspiring performance here as well as learn about this year's event.


In Pride Month we give thanks for so many affirming faith communities who offer welcome to the LGBTQIA+ community,
even when their property has been attacked, like Edmonds Lutheran Church readerboard this month.

Wisconsin
Lutheran Office for Public Policy – Wisconsin (LOPPW) loppw.org
The Rev. Cindy Crane, Director
Synod assembly season just ended.  The Lutheran Office of Public Policy in Wisconsin(LOPPW) had a presence at the Northern Great Lakes Synod(NGLS), East Central Synod of Wisconsin(ECSW), Greater Milwaukee Synod(GMS), and La Crosse Area Synod(LAS)  assemblies, but also at South-Central Synod of Wisconsin(SCSW) and Northwest Synod of Wisconsin(NWSW) synod events in throughout the spring.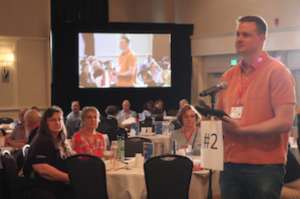 GMS – Passed a resolution to support Raise the Age (returning 17-year-old youth to the juvenile justice system) and for LOPPW to assist the synod in its advocacy:  Resolution-2-Final-Resolution-in-Support-of-the-Raise-the-Age-Wisconsin-Campaign.  Wisconsin is one of three states that automatically defaults 17-year-old youth into the adult justice system.  
Raise the Age and Expanding Driver Licenses bills were taken out of the budget, but there is bipartisan interest in re-introducing these items as a separate bills.   
On our interfaith advocacy day and beyond, we asked lawmakers to retain budget items related to PFAS, and if taken out to write separate bills.  We are pleased the State Budget, at this time, has $125 million put aside to combat pollution from so-called forever chemicals.  However, testing for PFAS and funding needed positions were eliminated.  Now, there is a separate bill - Senate Bill 312 that includes grants to municipalities for testing and requirements for the Department of Natural Resources (DNR). There is a continued bipartisan movement to take PFAS seriously and address the problem.  However, parts of SB312 tie the hands of the DNR so we have not taken a position on the bill in its entirety yet.